Environmental Management at the Kyocera Document Solutions Group
"Respect the Divine and Love People" is the Kyocera Group's corporate motto, and you can see it at work in everything we do. All of our corporate activities rest on the three pillars of coexistence ("Living Together"): coexisting harmoniously with our society, our global community, and nature. Committed to environmental management, the Kyocera Group as a whole aims for sustainable corporate development with the aim of integrating the goals of a healthy environment and economy. Kyocera Document Solutions uses an environmental management system to achieve environmental management that is in line with the Kyocera Group Environmental Safety Policy.
Kyocera Group Long-term Environmental Targets
The Kyocera Document Solutions Group Environmental Policy
1

Complying with laws and regulations

We will comply with laws, regulations, agreements, and internal standards regarding the environment.

2

Providing products that benefit the global environment

We will work on research and development as well as the promotion of products that are designed to help improve the global environment and reduce environmental impact throughout their life cycle.

3

Building a sustainable society

We will reduce greenhouse gas emissions throughout our entire value chain with the aim of achieving a decarbonized society.
We will procure environmentally friendly resources, minimize the additional input of resources as well as waste generation, and use sustainable resources.
We will strive to prevent environmental pollution by appropriately managing chemical substances in all processes.
We will help conserve biodiversity by minimizing any negative impact on the environment as well as protecting and nurturing natural ecosystems.

4

Communicating with stakeholders

We will promote communication with various stakeholders as well as participate in and support social contribution activities.

5

Operating the environmental management system

We will leverage our management system to implement environmental initiatives in line with our management rationale and continuously improve our environmental performance throughout our operations.
Environmental Activities in FY 2021
1. CO2 Emissions at Kyocera Document Solutions Locations (FY 2021)*
* CO2 emissions from electricity use
● Total CO2 Emissions at Locations by Fiscal Year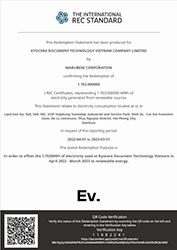 2. Electricity Consumed and Industrial Waste Generated at Kyocera Document Solutions Locations (FY 2021)
| | | | | | | |
| --- | --- | --- | --- | --- | --- | --- |
| | Japan | China Plant | Vietnam Plant | The Americas | Europe | Group Total |
| Electricity Consumption (kWh) | 51,741,372 | 38,206,519 | 9,863,346 | 4,065,001 | 3,010,838 | 106,887,076 |
| Industrial Waste Generation (kg) | 578,338 | 427,777 | 782,434 | 34,131 | 65,565 | 1,888,245 |
3. FY 2021 Environmental Activities under Global EMS*
Category
FY 2021 Targets

FY 2021 Results

Results

Energy use (crude oil equivalent)

Reduce energy use per unit of toner output by 2.0% year on year

Reduced 1.8%

Target unmet due to a delay in implementing energy saving measures

Greenhouse gas emissions

Reduce emissions by 671 t-CO2 from the previous year

Reduced
142 t-CO2

Target unmet due to a delay in implementing energy saving measures

Industrial waste generation

Reduce waste generation per unit of toner output by 1.0% year on year

Reduced 17.6%

Reduced wastewater emissions due to improved operating efficiency of facilities

Water use

Reduce waste generation per unit of toner output by 1.0% year on year

Reduced 5.1%

Reduced water use via wastewater recycling

Biodiversity conservation

Formulate and implement a biodiversity action plan

8 measures implemented

Participated in biotope restoration and other activities

Plastic reduction

Formulate and implement an action plan for reducing plastic

5 measures implemented

Reduced the use of plastic bottles by installing water purifiers and encouraging employees to carry their own reusable bottles
* EMS stands for Environmental Management System which covers the Hirakata plant, Tamaki plant, the Osaka Headquarters of Kyocera Document Solutions Japan, as well as our China plant and Vietnam Plant.
FY 2022 Environmental Targets of Global EMS
Our environmental management initiatives include setting annual environmental targets.
Category
FY 2022 Targets
Reducing energy use and CO2 emissions
Improve energy intensity by at least 2% year on year
Devise and implement measures aimed at cutting a total of 244 tons of CO2 emissions for the entire KDC Group
Reducing industrial waste generation
Implement measures to reduce industrial waste generation by an equivalent of 1% of the previous year's generation intensity
Reducing water use
Implement measures to reduce water use by an equivalent of 1% of the previous year's water intensity
Minimizing environmental impacts
Reduce plastic
Reduce plastic used for food and drink
Based upon the target in the Paris Agreement defining the international framework for the global warming countermeasures, we set our long term target in CO2 emission in 2018. In 2021, we have updated this long term target to 46 % reduction before 2030 (compared to 2019) and we have been arranging the replacement of energy saving equipment and making use of renewable energy.
● Long-term CO2 Emissions Reduction Target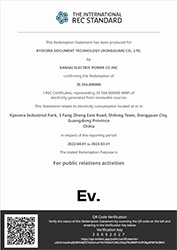 * The target covers only the Kyocera Document Solutions Group in Japan (excluding sales and service locations). The scope of the target includes greenhouse gas emissions from electricity use as well as natural gas use.
Menu
KYOCERA Document Solutions' CSR

Environmental report

Efforts at Production Centers and Offices

Efforts at Each Stage of Product Life Cycle

Social performance report

For Wholesome Development of Society

Plant report

Tamaki Plant (Mie, Japan)

Hirakata Plant (Osaka, Japan)

China Plant

Vietnam plant

Archived feature articles

Feature in FY2014 : Reformes to improve quality

Feature in FY2012 : Our pursuit of "Society/Environment-friendliness" crystallized into Smart MFPs

Feature in FY2011 : Environmentally-conscious packaging design

Feature in FY2010 : Social values of the TASKalfa series miltifunction products

Feature in FY2009 : CSR activities at Kyocera Mita's Shilong Plant

Feature in FY2008 : Kyocera Mita's environmental management centered on long-life-design printers and MFPs

Download CSR Report

Other