Kyocera Cloud Information Manager
Digitize office documents and shift to a smarter workplace
Every day you may handle thousands of files from paper to digital documents and keep them in the proper place. It could easily become difficult to handle by doing everything manually.
Once the documents transactions get stuck, it may affect across your entire team.
Kyocera Cloud Information Manager supports the digitization of internal documents and their management processes to accelerate operational efficiency. The solution helps organizations in taking the first step into digitalization and enhancing productivity in the new era of work.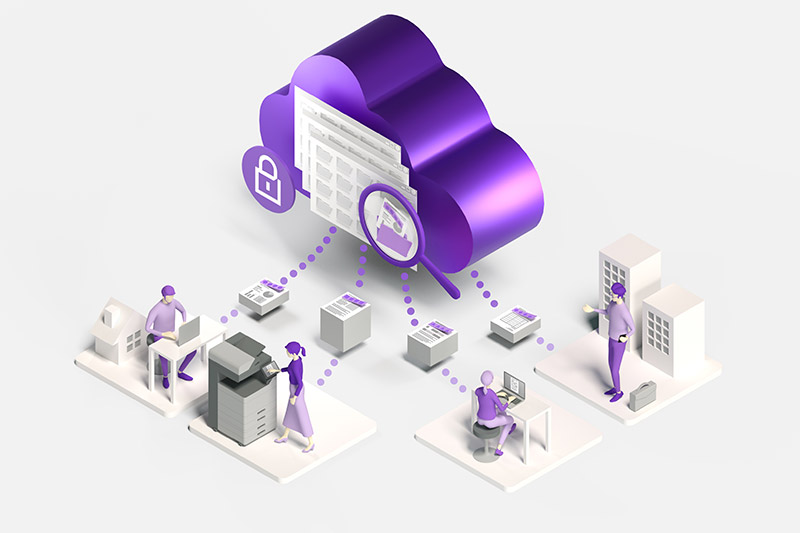 How can Kyocera Cloud Information Manager help your business?
Kyocera Cloud Information Manager brings intuitive and flexible document management in your environment with reduced server cost.
Easily organize documents

With Kyocera Cloud Information Manager, you can easily organize various documents in your daily work by scanning them with MFPs or mobile devices and dragging and dropping them to the web.

Easily label documents

Kyocera Cloud Information Manager analyzes the document content by OCR and extracts keywords. With the extracted keyword groups, you can easily carry out the labeling tasks by selecting labels with one click. With such feature, users can quickly classify large-volumes of documents.

Find your document immediately

Kyocera Cloud Information Manager enables easy indexing and management of all your documents. You can also quickly search for requested documents with keywords or dates.
Manage document access control easily

Kyocera Cloud Information Manager provides a highly secure document management environment by allowing users to manage access by document type such as invoices or price estimates and keeping track of changes made in the documents.

Low-cost, easy implementation with no management required

Kyocera Cloud Information Manager is a cloud-based document management solution for which you can make a contract with and implement immediately. No server management is required. By providing a stable usage environment 24/7, we support the workplaces of our customers.