Kyocera's TASKalfa Pro 15000c wins the Best Colour SRA3 Award of the European Digital Press Association.
February 15, 2021
Kyocera Document Solutions Inc. (President: Norihiko Ina) (hereafter "Kyocera"), is pleased to announce that our inkjet production printer, "TASKalfa Pro 15000c", has been awarded the Best Colour SRA3 award in the category of 500,000 prints in A4 per month by the European Digital Press Association (hereafter EDP).

EDP is an European print magazine organization consisting of 21 print magazines with more than 500,000 readers in 27 European countries.The EDP Award is a 14 year prestigious award for innovative technologies that have made a significant impact on the digital printing industry.

Kyocera was awarded the Best Colour SRA3 award for its TASKalfa Pro 15000c production printing inkjet device in the category of 500,000 prints in A4 per month. According to Marcel Ebbenhorst, Production Print Manager at Kyocera Document Solutions Europe B.V., "This is an exceptional achievement for our new production printing device, notably as we are a new entrant to this industry and have been acknowledged by a panel of experts from the publishing industry. Testament to the fact that we are on the right path of technological innovation with this inkjet device."

The EDP awards are evaluated in many ways. Importantly, it is not only the device or software itself that is a noteworthy consideration, but also the impact of the product on people and users. The impact such technological innovations have made in the marketplace due to technology and integration has become an important factor of the 2020 awards.

Kyocera will continue to pursue innovative technologies that will benefit our customers and contribute to the printing industries by developing the best products always.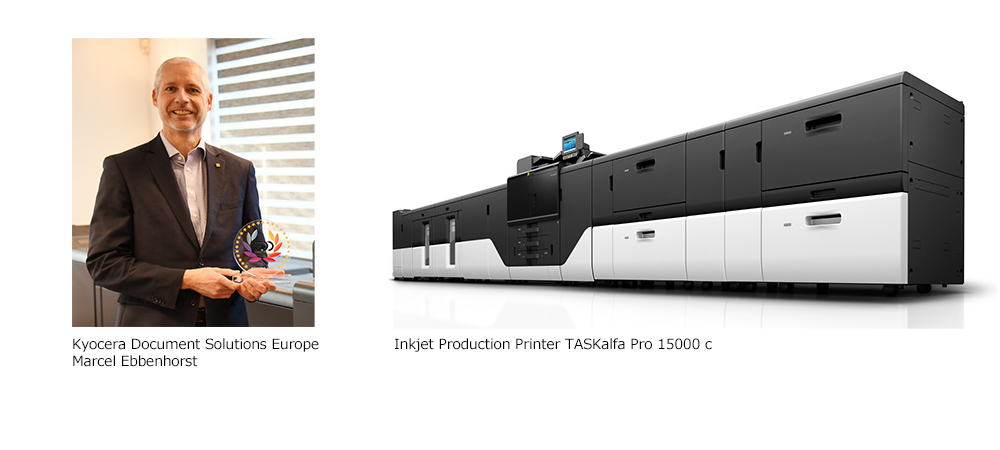 *
Company and product names on this page are the trade names, trademarks, or registered trademarks of their respective companies.
*
A news release is a press release and the information contained in it is as of the date of the release. Please note that the contents may differ at the time of viewing.