TASKalfa Pro 15000c
Maximizes productivity by providing an easy-to-use system, allowing maintenance to be done in moments.
Reduce downtime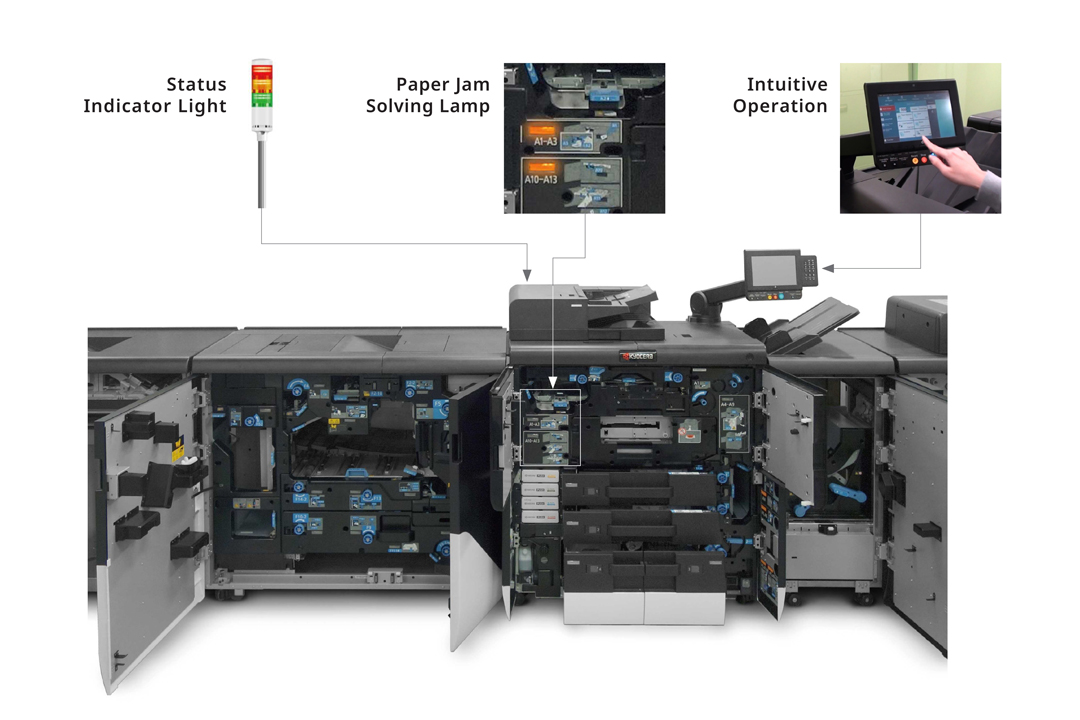 Full front access to all key machine components ensures quick and easy maintenance and minimum downtime. Also, when errors such as a paper jam occurs, there will be orange LED lights that clearly indicate the handling procedure and the presence or absence of paper, while the jammed paper in the printer will be ejected and reprinting will be performed starting from the affected area after recovery. In addition, Blue LED lights as the cassette status indicator, notify operators of in-used and empty cassettes, enabling supply of paper in time.
Pro user training
The TASkalfa Pro 15000c provides Professional Settings for minimizing machine down time. After training, trained users can perform proactive maintenance and replace key components. Kyocera provides a Professional Settings training program and a Professional Settings service manual which are recommended for Pro users. Please contact your sales representative for more information.
Cost simulation
Taskalfa Pro 15000c comes with a utility software that simulates ink usage for cost calculation before printing. By specifying the print data, the number of copies, the type and size of paper to be used, it can be simulated in advance on how much ink will be consumed for the printing, which speeds up the cost calculations for your business.
*Runs on Windows PC only.