TASKalfa 7054ci/6054ci/5054ci/4054ci/3554ci/2554ci
Simple Operation and Clear Notifications
Send and receive faxes has never been easier with a simple operation screen and LED notification.
Intuitive operation screen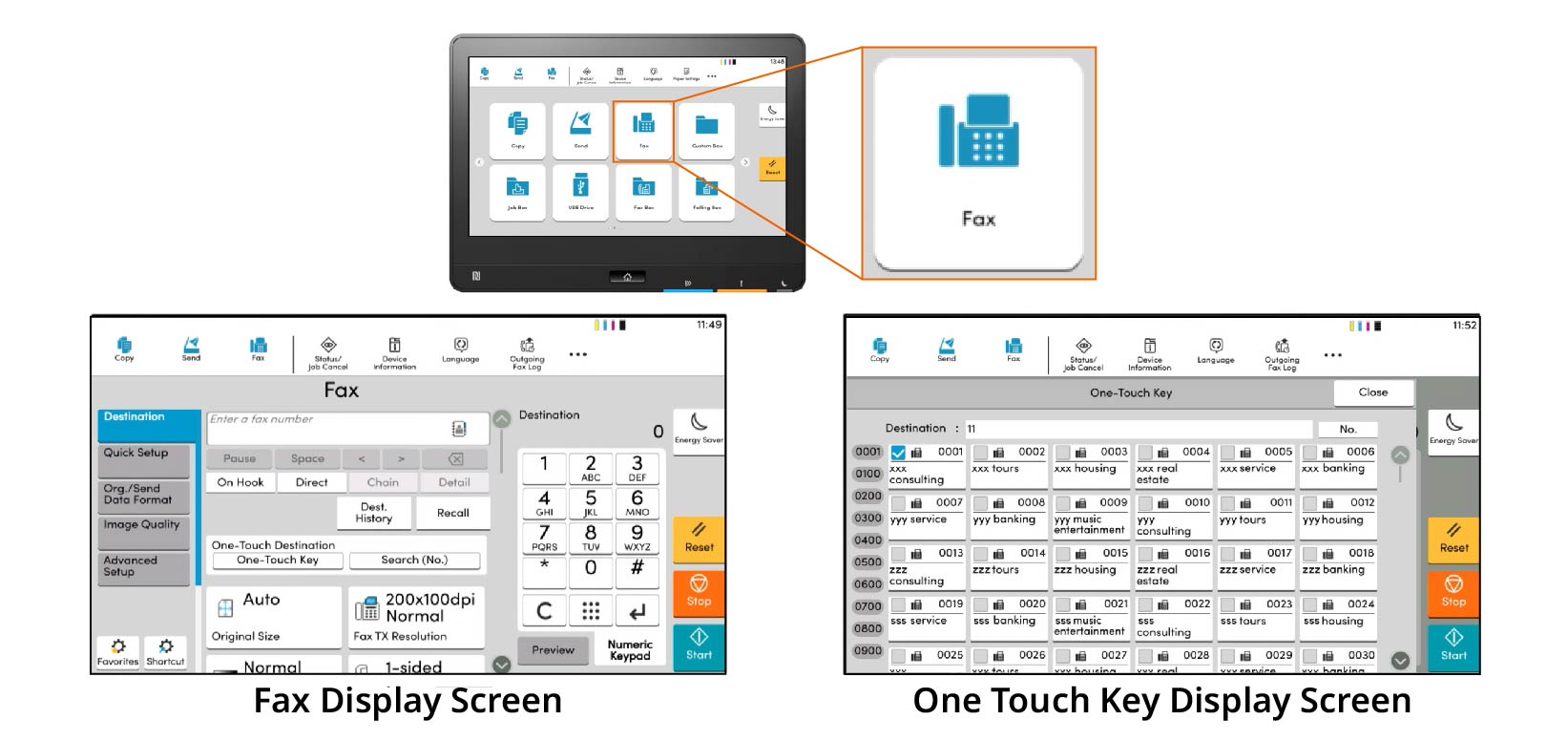 An easy-to-use, large touch panel on the device provides an easy and navigated operation with one-touch buttons, address book, and intuitative icons and text.
Notification of fax reception with light and sound

When the device detects paper on the job separator, such as a received fax, the LED lamp at the front of the device blinks to notify user. Also, notification sound will be played when the received data is output.

Forwarding incoming faxes in different ways

In addition to storing the received fax in the host's fax box, it can also be transmitted to other fax machines, Internet faxes, mail, folders, and cloud locations. Alternatively, you can forward a combination of destinations with different communication methods, such as a shared folder transfer (SMB) or an email transfer. You can also set conditions for forwarding to specific recipients.
Up to 2,500 address book entries
You can register up to 2,000 individuals and 500 groups of numbers and addresses for fax transmission. In the groups, you can register not only fax numbers, but also e-mail addresses and shared folders on servers and PCs. Boost efficiency by creating a one-touch button to shorten the call operation for frequently used destinations. Up to 1,000 projects can be registered.
Prevent incorrect transmission due to typo
Equipped with FASEC1 fax security function. You can confirm the information you have entered by going to the confirmation screen or by pressing the number twice before sending. You can also prohibit the setting of "Numeric keypad entry for numbers", "Sending to unregistered address book number", "Redial" and "Broadcast".
Paperless Fax
Save up waste of paper and person-hours by paperless fax transmission and reception.
Prevent wasteful output of unwanted faxes

As well as being able to print a received fax right away, you can also view it in the preview before printing. The fax memory receiving box function temporarily stores received faxes in memory. Using the operation panel, you can print only necessary documents, reducing the number of unnecessary prints such as unsolicited faxes.

Fax from PC

Network fax transmission is a function for sending faxes with the print driver for the computer. Paperless operation is achieved through direct transmission of data, thereby reducing your need to access the device to do a fax every time. Reductions in cost could also be realized through this method.

Save the document data after fax

You can save a copy of the transmitted document and convert them to digital files. You can resend the data saved in the specified user box (memory for each user/group) in the multifunction machine. It is useful when you need to send a fax regularly.
Enhanced Usability with Advanced Features
Business faxing features that best meet your needs.
Supports a wide range of transmission document sizes
Supports a variety of paper sizes from A3 to A6. With the document feeder, you can even fax long documents up to 1,600 mm (A4 width).
Send your fax in sharp text
The transmission resolution and intensity can be customized according to your needs upon faxing. You will no longer have to worry about sending documents with fine lines or text.
Report send/receive status
The system enables you to view the history of more than 100 fax transmissions and reception, including the send/receive status (normal/abort/error) and the recipient. A maximum of 50 management reports for each recent call can be printed, and the report generation may also be automated.
Fax line that can be used separately for different purposes
There is a maximum of two lines for faxing. Operations such as using different fax lines for business partners and general users can also be realized with a single device.* Requires 2 sets of FAX System 12
Prevent paper selection mistakes by specifying a paper cassette
If you specified a cassette to feed paper when you receive a fax, the machine will not automatically feed paper from any other cassette. This prevents you from printing on different-sized paper. Furthermore, specifying the paper destination of the fax printout prevents the document from being mixed with the copied or printed copy.
Other Faxing Features
Fax Transmission Settings
●Outgoing Faxes (Fax Direct Transmission, memory transmission, timer transmission, transmission reservation, interrupt transmission) ● Document Size (Auto Detect/Custom) ● Outgoing Document Size (Select from document size, standard size and others.) ● Mixed Size Originals (process documents of different sizes all at once)* ● Continuous Scan (Batch processing of files read separately) ● Duplex, Spread Orientation ● Reduced/Enlarged ● Centering ● Border Erase (Erase the black border that froms around the image) ● File Name Entry ● Long Original (Reads long-sized original documents using document processor) ● Network Fax (Setting and sending via the Internet factory driver: Attaching a cover page, sending a timer linked with the main body address book, displaying an address confirmation dialog, and printing at the same time)
*Not capable with DP-7140.
Destination Registration
●Panel Input ● Select from address book (Search by Address Name, one-touch key, and short key) ● Batch Sending (Up to 500 group addresses)
Fax Reception Setting
●Reception Method (Auto reception, fax/telephone automatic switching reception, fax/answering machine automatic switching reception, manual reception) ● Polling Reception (Receives the sender's original using the receiver's operation) ● F-Code Communication Setting (Sending documents to the communication box of the receiver: F-code confidential communication, F-code bulletin board reception, F-code relay broadcast communication, fax box transfer of received documents) ● Received File Processing (Print or forward print according to conditions after receiving memory) ● Receiving and Forwarding (PC Folder, Mail, Other Fax/Internet Fax, Fax Box) ● Paper Type Setting ● Print Settings (Duplex, 2 in 1)
Image Quality Settings
●Transmssion Resolution (Normal: 200 × 100 dpi, Fine: 200 × 200 dpi , Super Fine: 200 × 400 dpi ,Ultra Fine: 400 × 400 dpi , 600 × 600 dpi) ● Receive Resolution (1200 × 1200 dpi) ● Document Density ● Document Quality (Text + Photo Mode, Photo Mode, Text Mode (for Thin Text/Thin Lines))
Prevention of misoperation, Security
●Destination Check before Send ● Input Destination Twice● Fax Encryption ● Transmission Permission (Registration of permitted fax numbers/ID numbers, registration of rejected fax numbers/ID numbers, block faxes from unknown numbers) ● Operation Time Setting (limit FAX reception in night-time)
Fax box (Temporarily saving data in device memory)
●Box Document Display (Fax preview, document list) ● Box Document Search (Document name, document box number, and document box name) ● Box Receiving Setting (Memory reception, reception display, reception transfer) ● Box Sending Setting (File format, transmission resolution, file size check, timer transmission, delete after transmission, file division, FTP encryption transmission) ● Box Document Printing (Delete after printing, Eco Print setting, and Margin setting)
Fax Management
● Send and Print ● Send and Save ● Record on Received Date and Time ● Outputting Address Book List ● Printing Fax Box List ● Sending/Checking Received History of Fax Job ● Printing Communication Management Report (Fax transmission/reception) ● Printing Result Report (Send result, receive result, abort job) ● Result Report Setting
Internet Fax Settings (Requires configuration with optional Internet Fax Kit (A))
●Fax Send (Simple Mode, Full Mode, Direct SMTP (Full mode)) ● i-Fax Subject/Message Input ● Forwarding of received fax to multiple recipients via Internet fax
Other Features
● Stamp (text stamp, bates stamp) ● On-hook Dial Selection ● Multi-Port (Require 2 fax line, i.e. configuration with 2 x FAX System 12: Port designation, receive-only port setting, port restriction for department management)