Test Facilities at KYOCERA Document Solutions' R&D Center Receive International Standard ISO/IEC 17025 Accreditation for Chemical Emissions
Osaka, Japan - February 13, 2015 -KYOCERA Document Solutions Inc. announces that the test facilities located at its R&D center (Osaka City) have received International Standard ISO/IEC 17025 accreditation as a chemical emission test site by Perry Johnson Laboratory Accreditation, Inc. (PJLA), an accreditation body for test facilities.

ISO/IEC 17025 is an International Standard designed for the accreditation of test and calibration processes in specific fields of testing, which ensures that the test process, calibration processes, and test laboratories conform to a quality management system, and that the laboratory is equipped to perform tests and calibration activities at a global standard.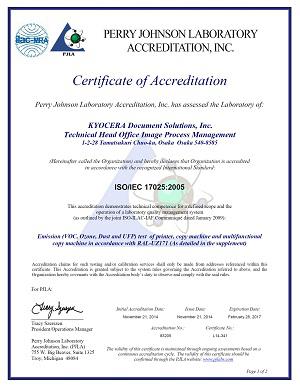 KYOCERA Document Solutions Inc. was accredited for chemical emission tests in VOC*1, ozone, dust, and UFP*2 of printers and MFPs, in accordance with RAL UZ-171 determined by German Institute for Quality Assurance and Certification (RAL, Deutches Institut für Gutersicherung und Kennzeichnung e.V.). The company's R&D center had been certified by Germany's Federal Institute for Materials Research and Testing (BAM, Bundesanstalt für Materialforschung und -prüfung) as a chemical emission test site for the German eco-label "Blue Angel" on October 25, 2013*3. With the accreditation of ISO/IEC 17025, the company now can carry out in-house chemical emission tests which are necessary for obtaining the U.S. environmental rating system "EPEAT®" and environmental labels in other countries.

In an effort to contribute to social needs to protect the environment, the company has been analyzing chemical substances emitted from products and materials used to manufacture products, and been enhancing various evaluation systems in the development of products. Seitaro Yoshida, the company's Executive Officer and Senior General Manager at the Corporate R&D Division comments, "We strive to continue to provide safe and reliable products to our customers, by maintaining high reliability of analysis data through continuous quality management and by using the obtained data in product development. We must not only maintain the accreditation but also make further efforts to enhance our technology to contribute to establishing a sustainable society."
*1

Volatile Organic Compounds (VOC), such as toluene, xylene and ethyl acetate, which are contained in paints, printer inks, adhesives, detergents, gasoline, thinners, etc.

*2

Ultrafine Particles (UFP), up to 0.1 micrometer in diameter. In consideration of the effects on the human body, many environmental labels such as the Blue Angel set a strict standard for UFP emission from MFPs and printers.
Outline of Accreditation
Accreditation Standard: ISO/IEC 17025:2005
Accreditation Body: Perry Johnson Laboratory Accreditation, Inc. (PJLA)
Initial Accreditation date: November 21, 2014
Accreditation No.: 83025
Certificate No.: L14-341 Details
Field of test: Chemical
Products tested: Printer, copy machine and multifunctional copy machine
Specific test: Emission test on basis of RAL-UZ171 (VOC, Ozone, Dust, UFP)
About KYOCERA Document Solutions Inc.
KYOCERA Document Solutions Inc. headquartered in Osaka, Japan is a leading manufacturer of document imaging solutions and document management systems, including color and monochrome multifunctional products and printers and wide format devices. KYOCERA's products are renowned for their unique long-life imaging components that provide greater reliability, less waste - resulting in a lower Total Cost of Ownership (TCO) over the life of the product.

The KYOCERA Document Solutions portfolio does not stop at hardware. A full suite of business applications and consultative services allow customers to optimize and manage their document workflow, unleashing the full potential of their hardware investment. KYOCERA Document Solutions Inc. is a core company of KYOCERA Corporation, the world's leading developer and manufacturer of advanced ceramics and associated products, including telecommunications equipment, semiconductor packages and electronic components. During the year ended March 31, 2014, KYOCERA Corporation's net sales totaled 1.45 trillion yen (approx. USD14.1 billion).
Inquiries
Customers except within EU

KYOCERA Document Solutions Inc., Corporate Communication Section

Customers within EU

KYOCERA Document Solutions Europe B.V.

Kyocera Document Solutions Inc. ensures adherence to local data protection regulations. We have detected that your inquiry comes from within the EU. Therefore, due to the EU's General Data Protection Regulation, please note that your request will be forwarded to our regional headquarter: Kyocera Document Solutions Europe.
*

This news release is intended for the media, and is current, as of the date of publication.