Five KYOCERA Multifunction Printers Highly Recommended by Buyers Laboratory
Osaka, Japan - March 12, 2015 - KYOCERA Document Solutions Inc., one of the world's leading document solutions companies, today announced that Buyers Laboratory LLC (BLI) highly recommends the TASKalfa 7551ci and 3051ci color MFPs, and the TASKalfa 5501i, 3501i, and 3010i monochrome MFPs. BLI, a leading provider of product intelligence for the imaging industry, awarded each of the five devices its Highly Recommended/Excellent rating for reliability. Both color MFPs earned additional Excellent commendations for value; the monochrome devices were also recognized with top marks in value as well and print quality.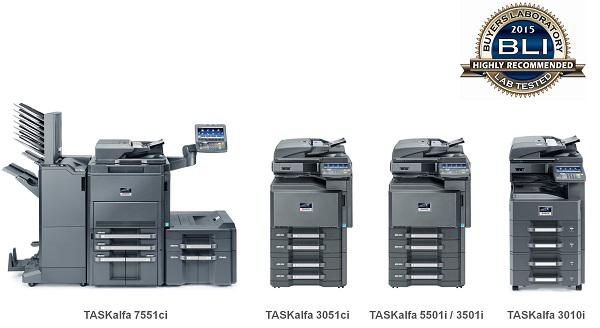 In evaluating the color MFPs, BLI cited their "outstanding reliability," and noted that their excellent features combined with a lower acquisition cost "make for an outstanding value." Equally important, BLI noted that these color devices had "faster than average tested scan speeds" and "smaller than average color scan file sizes."

The monochrome devices performed just as admirably. Also cited for their "excellent reliability," these MFPs stood out for being feature rich compared to comparable models, and were lauded for their halftone range, extensive drum life, fast duplex scan speeds, and user-friendly control panels.

"It's an honor to be recognized by Buyer's Lab, especially in these key areas," said Ryuzo Morita, Director of KYOCERA Document Solutions Inc. and Senior General Manager of its Corporate Strategy Planning Division. "Our focus has always been, and remains, on reliability, value, and performance. The BLI tests validate our efforts. We're delighted to receive this news, and look forward to passing it on to our customers and dealers."

When conducting tests in all key performance areas, BLI found that these five Kyocera TASKalfa devices outperformed other MFPs in their respective classes, receiving top grades in reliability, value, ease of use, print drivers, scan functions, multitasking, print productivity, print quality, setup, utilities, and security features.

BLI is a respected independent provider of analytic information that buyers and IT directors trust to guide them when purchasing imaging equipment.
About Buyers Laboratory LLC
Buyers Laboratory LLC (BLI) is the imaging industry's leading independent provider of analytical information and services. For more than 50 years, buyers have relied on BLI data when making purchasing decisions, while industry professionals have turned to it for competitive intelligence when creating marketing strategies. BLI's services, which are also accessible via mobile devices, include a comprehensive library of test reports, images, and manufacturer's literature--as well as industry tools that help configure products, calculate total cost-of-ownership (TCO), and determine annual power usage. BLI also consults with manufacturers, helping them develop and market more efficient products and consumables.
About KYOCERA Document Solutions Inc.
KYOCERA Document Solutions Inc. headquartered in Osaka, Japan is a leading manufacturer of document imaging solutions and document management systems, including color and monochrome multifunctional products and printers and wide format devices. KYOCERA's products are renowned for their unique long-life imaging components that provide greater reliability, less waste - resulting in a lower Total Cost of Ownership (TCO) over the life of the product.

The KYOCERA Document Solutions portfolio does not stop at hardware. A full suite of business applications and consultative services allow customers to optimize and manage their document workflow, unleashing the full potential of their hardware investment. KYOCERA Document Solutions Inc. is a core company of KYOCERA Corporation, the world's leading developer and manufacturer of advanced ceramics and associated products, including telecommunications equipment, semiconductor packages and electronic components. During the year ended March 31, 2014, KYOCERA Corporation's net sales totaled 1.45 trillion yen (approx. USD14.1 billion).
Inquiries
Customers except within EU

KYOCERA Document Solutions Inc., Corporate Communication Section

Customers within EU

KYOCERA Document Solutions Europe B.V.

Kyocera Document Solutions Inc. ensures adherence to local data protection regulations. We have detected that your inquiry comes from within the EU. Therefore, due to the EU's General Data Protection Regulation, please note that your request will be forwarded to our regional headquarter: Kyocera Document Solutions Europe.
*

This news release is intended for the media, and is current, as of the date of publication.