KYOCERA Document Solutions Inc. Wins Good Design Award 2015 for A4 Color MFPs
Osaka, Japan - February 3, 2016 - KYOCERA Document Solutions Inc., one of the world's leading manufacturers of document imaging solutions and document management systems, is pleased to announce that its new A4 color multifunctional products (MFPs), the TASKalfa 406ci (40ppm) and TASKalfa 356ci (35ppm), have won the Good Design Award 2015 hosted by the Japan Institute for Design Promotion (JDP), a public interest incorporated foundation. These products have launched in various countries from the end of January, 2016.
The Good Design Awardis a comprehensive design evaluation and commendation system that aims to enrich our lives, industries, and society as a whole by highlighting and celebrating superior design works. Its precursor, the Good Design Selection System (or G Mark System), was founded in 1957 by the Ministry of International Trade and Industry (the current Ministry of Economy, Trade and Industry), and has been engaged in this work for about 60 years. Submissions come from a wide range of fields. Recipients of a Good Design Award are granted use of the G Mark symbol, which has been an emblem of good design for over half a century.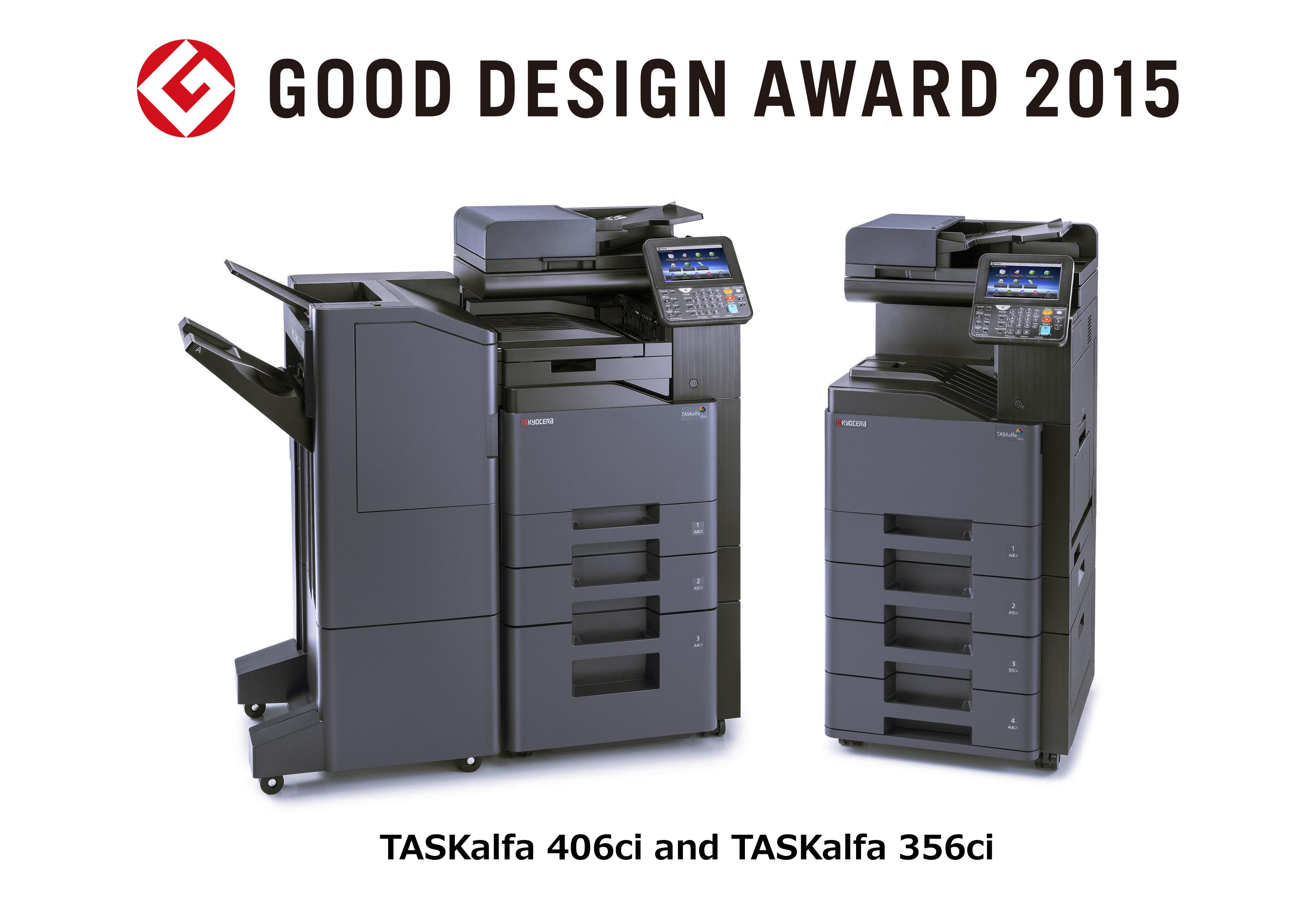 Overview of TASKalfa 406ci and TASKalfa 356ci
TASKalfa 406ci and TASKalfa 356ci were developed for medium and large workgroups in mid-sized to larger enterprises, featuring a reliable/durable design and offer a variety of optional components such as paper feeders and document finishers. The MFPs have the same capability as KYOCERA's A3 TASKalfa MFP series with HyPASTM*, a KYOCERA-developed software platform which contributes to the promotion of information sharing and the streamlining of document workflow. For this reason, KYOCERA's line of ultra-reliable MFPs broaden the range of choices for customers mainly using A4-size sheets for their document work. The JDP review committee highly commended the TASKalfa 406ci and TASKalfa 356ci MFPs for providing superior value based on the viewpoint of the user's convenience.
*HyPAS: Hybrid Platform for Advanced Solutions
TASKalfa Delivers a Modern Design
The commanding yet modern design delivers an overall air of high-quality and high-reliability, and meets the requirements of a floor installation type product shared by many users. The color tone is a combination of dark and deep colors. The device has a simple shape while emphasizing vertical/horizontal lines.
Easy-to-understand, Easy-to-use Design 
The design aimed for easily understandable input/output operations, which are the most basic functions of the device, and enhanced usability. To improve visibility, areas that come in contact with original/printed documents and the operation panel are in a black color. Different color layers surround the components and set boundaries to clearly distinguish the main and daily operational parts.
For product availability in your region, please inquire with your local dealer, distributor or agent.
About KYOCERA Document Solutions Inc.
KYOCERA Document Solutions Inc. headquartered in Osaka, Japan is a leading manufacturer of document imaging solutions and document management systems, including color and monochrome multifunctional products and printers and wide format devices. KYOCERA's products are renowned for their unique long-life imaging components that provide greater reliability, less waste - resulting in a lower Total Cost of Ownership (TCO) over the life of the product.
The KYOCERA Document Solutions portfolio does not stop at hardware. A full suite of business applications and consultative services allow customers to optimize and manage their document workflow, unleashing the full potential of their hardware investment. KYOCERA Document Solutions Inc. is a core company of KYOCERA Corporation, the world's leading developer and manufacturer of advanced ceramics and associated products, including telecommunications equipment, semiconductor packages and electronic components. During the year ended March 31, 2015, KYOCERA Corporation's net sales totaled 1.52 trillion yen (approx. USD12.7 billion).
Inquiries
Customers except within EU

KYOCERA Document Solutions Inc., Corporate Communication Section

Customers within EU

KYOCERA Document Solutions Europe B.V.

Kyocera Document Solutions Inc. ensures adherence to local data protection regulations. We have detected that your inquiry comes from within the EU. Therefore, due to the EU's General Data Protection Regulation, please note that your request will be forwarded to our regional headquarter: Kyocera Document Solutions Europe.
*

This news release is intended for the media, and is current, as of the date of publication.