KYOCERA TASKalfa 406ci Highly Recommended by Buyers Laboratory
Osaka, Japan - March 16, 2016 - KYOCERA Document Solutions Inc., one of the world's leading document solutions companies, today announced that Buyers Laboratory LLC (BLI) has certified the Kyocera TASKalfa 406ci multifunctional products (MFP) as both "Highly Recommended" and "Highly Reliable" for 2016. BLI is a leading independent provider of product intelligence for the imaging industry, trusted by buyers and IT directors around the world.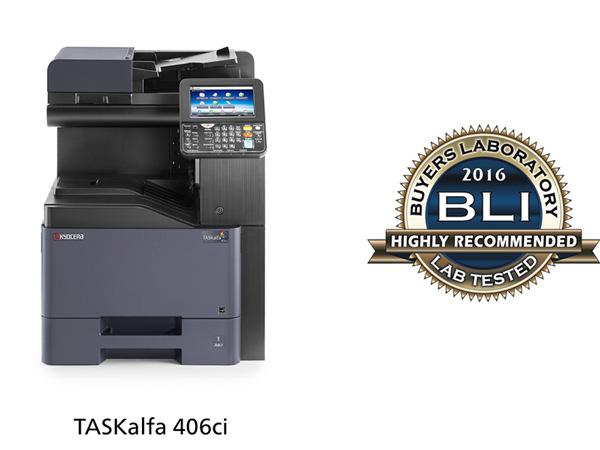 BLI cited Kyocera's "outstanding reliability," and noted that their excellent features combined with ease of network setup, color print productivity and robust functionality "make for an outstanding value." Moreover, BLI said that the TASKalfa 406ci MFP compared favorably to other devices in its class, with "more advanced finishing, strong scanning and enhanced ease of use."
Marlene Orr, Director, Office Equipment Product Analysis at BLI said, in summary, "The TASKalfa 406ci offers the robust functionality of a large device in a more compact footprint, and at a much lower price than larger devices in this speed range."
"It's an honor to receive such a strong recommendation from Buyers Lab." said Ryuzo Morita, Director of KYOCERA Document Solutions Inc. and Senior General Manager of its Corporate Strategy Planning Division. "We believe that this device, high reliability backed up by Buyers Lab, will certainly help to optimize our customers' document workflow."
The evaluation was comprehensive. For approximately two months, BLI conducted assessments of virtually all features, capabilities, and performance measures: reliability, multitasking, image quality, ease of network set-up, print drivers, administrative utilities, scanning, and feedback to workstations.
Testing for the Reliability Certification was particularly rigorous, including both simplex and duplex jobs and a range of paper sizes and stocks. The TASKalfa 406ci performed exceptionally well, completing 150,000 print impressions and 15,000 scans with only one misfeed and not a single service interruption. BLI Senior Test Technician Tony Maceri commented: "Truly impressive... combined with simple procedures for routine maintenance, users can be assured of maximum uptime."
Image quality was assessed for both black-and-white and color, and in both standard resolution and 1200-dpi mode. But it was the high-resolution output that really caught the attention of Joe Ellerman, BLI Manager of Laboratory Operations: "Skin tones were very natural, and colors were vibrant with detail that jumped right off the page."
About Buyers Laboratory LLC
Buyers Laboratory LLC (BLI) is the imaging industry's leading independent provider of analytical information and services. For more than 50 years, buyers have relied on BLI data when making purchasing decisions, while industry professionals have turned to it for competitive intelligence when creating marketing strategies. BLI's services, which are also accessible via mobile devices, include a comprehensive library of test reports, images, and manufacturer's literature--as well as industry tools that help configure products, calculate total cost-of-ownership (TCO), and determine annual power usage. BLI also consults with manufacturers, helping them develop and market more efficient products and consumables.
About KYOCERA Document Solutions Inc.
KYOCERA Document Solutions Inc. headquartered in Osaka, Japan is a leading manufacturer of document imaging solutions and document management systems, including color and monochrome multifunctional products and printers and wide format devices. Kyocera's products are renowned for their unique long-life imaging components that provide greater reliability and less waste - resulting in a lower Total Cost of Ownership (TCO) over the life of the product.
The KYOCERA Document Solutions portfolio does not stop at hardware. A full suite of business applications and consultative services allows customers to optimize and manage their document workflow, unleashing the full potential of their hardware investment. KYOCERA Document Solutions Inc. is a core company of KYOCERA Corporation, the world's leading developer and manufacturer of advanced ceramics and associated products, including telecommunications equipment, semiconductor packages and electronic components. During the year ended March 31, 2015, KYOCERA Corporation's net sales totaled 1.52 trillion yen (approx. USD 12.7 billion).
Inquiries
Customers except within EU

KYOCERA Document Solutions Inc., Corporate Communication Section

Customers within EU

KYOCERA Document Solutions Europe B.V.

Kyocera Document Solutions Inc. ensures adherence to local data protection regulations. We have detected that your inquiry comes from within the EU. Therefore, due to the EU's General Data Protection Regulation, please note that your request will be forwarded to our regional headquarter: Kyocera Document Solutions Europe.
*

This news release is intended for the media, and is current, as of the date of publication.