KYOCERA's Products Rack Up "Highly Recommended" and "Summer 2016 Pick" from Buyers Laboratory
Osaka, Japan - July 28, 2016 - Kyocera Document Solutions Inc., one of the world's leading document solutions companies, today announced that it has received multiple awards from Buyers Laboratory LLC (BLI). BLI is a leading independent provider of product intelligence for the imaging industry, trusted by buyers and IT directors around the world.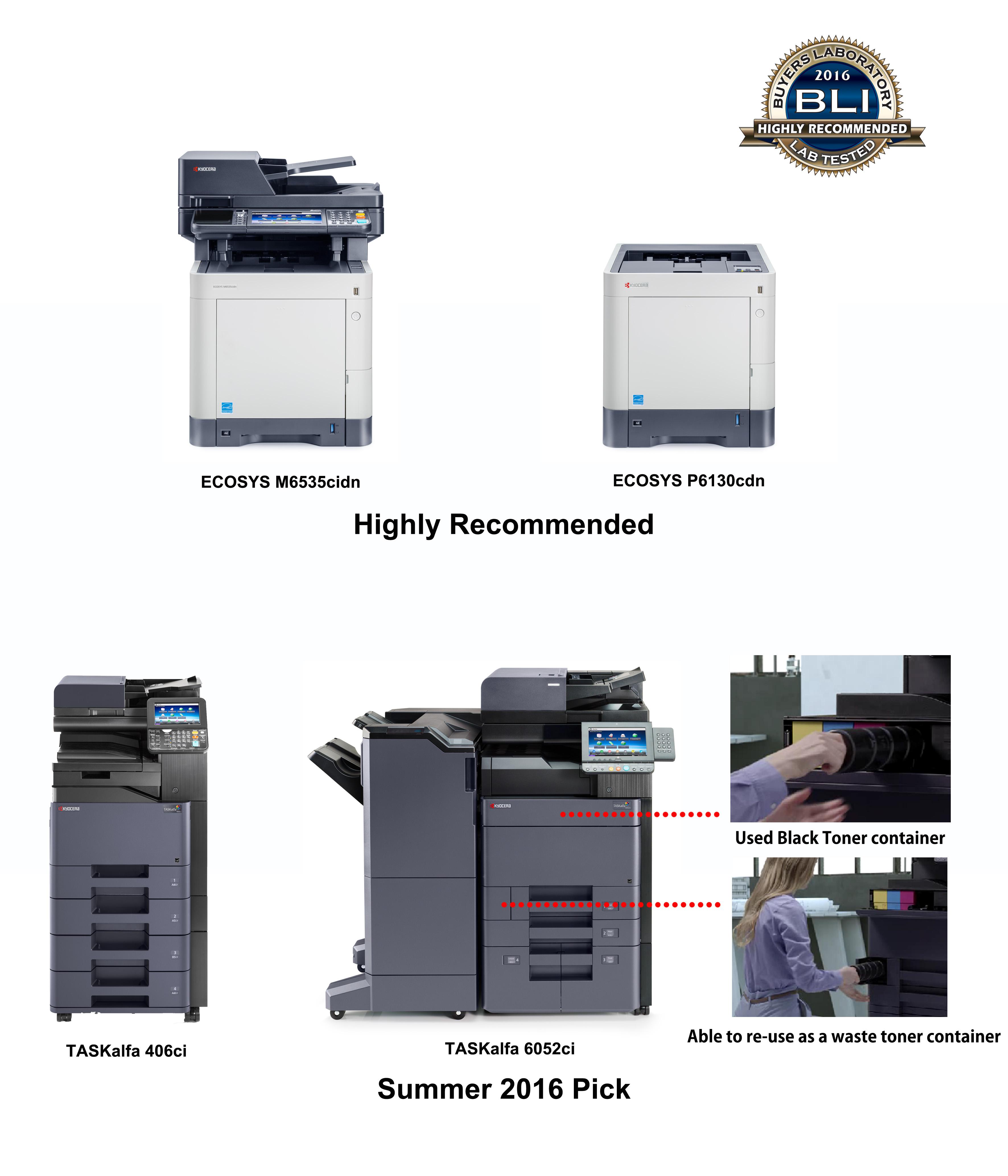 Kyocera's ECOSYS P6130cdn and ECOSYS M6535cidn each received BLI's coveted Certificate of Reliability and "Highly Recommended" rating. Kyocera also picked up an Outstanding Achievement in Innovation award for the eco-friendly waste toner design of its new A3 models, and the TASKalfa 406ci added to its already considerable accolades, taking home the "Pick" award for Outstanding Color MFP for Mid-Size to Large Workgroups.
*

The availability of the products differs by each country or region
"It's not just the amount of industry recognition, it's the variety," said Hiroaki Yoshihashi, general manager, Product Planning Division for Kyocera Document Solutions. "Our goal is to be best-in-class in every aspect of product design and reliability, and these awards are further validation."
ECOSYS Printers Ace Reliability Tests
In the business printer category, reliability is consistently ranked among the most important factors, and arguably the greatest competitive differentiator. Over a 2-month period, BLI put Kyocera's ECOSYS P6130cdn and ECOSYS M6535cidn through exhaustive 50,000-impression tests, including running both devices at their maximum duty cycles.
Each printer "proved to be a highly reliable product," and both earned the "Highly Recommended" rating and seal of approval, BLI's strongest endorsement.
TASKalfa MFPs Add to Accolades
BLI analysts were thoroughly impressed by Kyocera's unique waste toner container design, which has numerous tangible benefits. BLI Senior Editor George Mikolay explains: "Because Kyocera's new A3 MFP lineup lets you use an expired black toner bottle as a waste container, customers will likely see a reduction in waste generated, storage requirements for supplies, as well as downtime and service costs, with no need to send out a tech with a replacement waste toner container." The design earned Kyocera the 2016 BLI Outstanding Achievement in Innovation award.
Introduced just 5 months ago, the TASKalfa 406ci MFP has already amassed numerous industry honors, including BLI's "Highly Recommended" rating. BLI's latest assessment focused on suitability for one of its primary user bases, ultimately naming the TASKalfa 406ci as the "Outstanding Color MFP for Mid-Size and Large Workgroups."
"The TASKalfa 406ci offers the full functionality of an A3 copier in a more compact footprint and at a much lower cost," said Marlene Orr, Director of Office Equipment Analysis at BLI.
Several key features were noted: A7 inch full-color tablet-like control panel; strong scanning capabilities; and Kyocera's open platform, HyPAS, which enables the TASKalfa 406ci to run a more robust portfolio of business applications, including PinPoint Scan, DMConnect, DocuWare Connector, Teaching Assistant and more※1. BLI was also impressed by the Tiered Color System pricing, which allows organizations to pay for the actual amount of color used, instead of full price for even spot color.
"For these reasons and more, the TASKalfa 406ci is an ideal choice for mid-size and large workgroups," Orr concluded.
*1

The availability of the applications differs by each country or region
Raising the Bar
For Kyocera's Yoshihashi, the focus continues to be the big picture. "For every device, we question 'How can it be even better?' Today's award-winning feature is tomorrow's standard feature. The goal has to be continuous improvement."
About Buyers Laboratory LLC
Buyers Laboratory LLC (BLI) is the imaging industry's leading independent provider of analytical information and services. For more than 50 years, buyers have relied on BLI data when making purchasing decisions, while industry professionals have turned to it for competitive intelligence when creating marketing strategies. BLI's services, which are also accessible via mobile devices, include a comprehensive library of test reports, images, and manufacturer's literature--as well as industry tools that help configure products, calculate total cost-of-ownership (TCO), and determine annual power usage. BLI also consults with manufacturers, helping them develop and market more efficient products and consumables.
About KYOCERA Document Solutions Inc.
Kyocera Document Solutions Inc. headquartered in Osaka, Japan is a leading manufacturer of document imaging solutions and document management systems, including color and monochrome multifunctional products and printers and wide format devices. Kyocera's products are renowned for their unique long-life imaging components that provide greater reliability and less waste - resulting in a lower Total Cost of Ownership (TCO) over the life of the product.
The Kyocera Document Solutions portfolio does not stop at hardware. A full suite of business applications and consultative services allows customers to optimize and manage their document workflow, unleashing the full potential of their hardware investment. Kyocera Document Solutions Inc. is a core company of Kyocera Corporation, the world's leading developer and manufacturer of advanced ceramics and associated products, including telecommunications equipment, semiconductor packages and electronic components. During the year ended March 31, 2016, Kyocera Corporation's net sales totaled 1.47 trillion yen (approx. USD 13.3 billion).
Inquiries
Customers except within EU

KYOCERA Document Solutions Inc., Corporate Communication Section

Customers within EU

KYOCERA Document Solutions Europe B.V.

Kyocera Document Solutions Inc. ensures adherence to local data protection regulations. We have detected that your inquiry comes from within the EU. Therefore, due to the EU's General Data Protection Regulation, please note that your request will be forwarded to our regional headquarter: Kyocera Document Solutions Europe.
*

This news release is intended for the media, and is current, as of the date of publication.