KYOCERA TASKalfa 3252ci Highly Recommended by Buyers Laboratory
Osaka, Japan - November 11, 2016 - Kyocera Document Solutions Inc., one of the world's leading document solutions companies, today announced that Buyers Laboratory LLC (BLI) has certified the Kyocera TASKalfa 3252ci as both "Highly Recommended" and "Reliable Certified" for 2016. BLI is a leading independent provider of product intelligence for the imaging industry, trusted by buyers and IT directors around the world.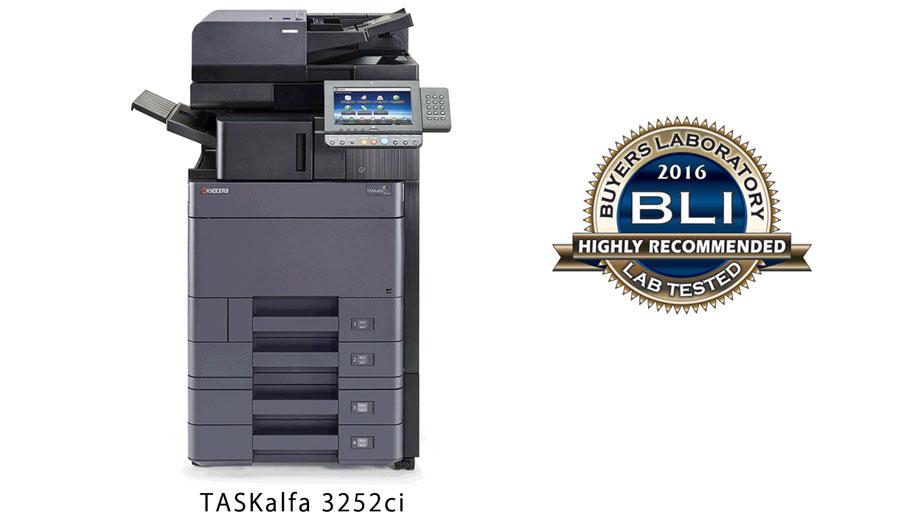 Over two months, BLI conducted rigorous assessments of virtually all features, capabilities, and performance measures. The TASKalfa 3252ci was rated as "an excellent overall performer."
The assessment included a 125,000-impression reliability test, during which time the MFP experienced only one misfeed. BLI analysts noted that the MFP's long-life components and high maximum paper capacity mean less frequent interruptions, and that both color and monochrome output remained consistent over long runs.
The TASKalfa 3252ci impressed Buyers Lab with its fast first-print and first-copy times, as well as its fast scan speed. The device is HyPAS-enabled, ready to run any of Kyocera's industry-leading library of business applications. BLI analysts called special attention to the mobile printing capabilities.
"Wi-Fi Direct and NFC support for Android are both standard, and the device can run Apple AirPrint, Google Cloud Print, and KYOCERA Mobile Print," said George Mikolay, Senior Editor for A3 and Production Hardware at BLI. "This MFP is ideal for today's mobile workforce."
"Both dealers and customers are looking for reliability and performance - and this is it," said Hiroaki Yoshihashi, general manager, Product Planning Division for Kyocera Document Solutions. "This recommendation from BLI confirms everything we've been saying about the TASKalfa 3252ci."
The MFP features a unique waste toner design: expired black cartridges can be used as waste containers, reducing storage requirements and landfill waste. The design earned the TASKalfa 3252ci a Summer 2016 Outstanding Achievement in Innovation.
"With its low price, robust feature set, and strong overall performance, the MFP is an excellent value for small to mid-size workgroups," continued BLI's Mikolay. "BLI highly recommends the Kyocera TASKalfa 3252ci for monthly volumes of up to 15,000 impressions."
*

Android and Google Cloud Print is a trademark of Google Inc.

*

Apple and AirPrint are trademarks of Apple, Inc., registered in the U.S. and other countries.
About Buyers Laboratory LLC
Buyers Laboratory LLC (BLI) is the imaging industry's leading independent provider of analytical information and services. For more than 50 years, buyers have relied on BLI data when making purchasing decisions, while industry professionals have turned to it for competitive intelligence when creating marketing strategies. BLI's services, which are also accessible via mobile devices, include a comprehensive library of test reports, images, and manufacturer's literature--as well as industry tools that help configure products, calculate total cost-of-ownership (TCO), and determine annual power usage. BLI also consults with manufacturers, helping them develop and market more efficient products and consumables.
About KYOCERA Document Solutions Inc.
Kyocera Document Solutions Inc. headquartered in Osaka, Japan is a leading manufacturer of document imaging solutions and document management systems, including color and monochrome multifunctional products and printers and wide format devices. Kyocera's products are renowned for their unique long-life imaging components that provide greater reliability and less waste - resulting in a lower Total Cost of Ownership (TCO) over the life of the product.
The Kyocera Document Solutions portfolio does not stop at hardware. A full suite of business applications and consultative services allows customers to optimize and manage their document workflow, unleashing the full potential of their hardware investment. Kyocera Document Solutions Inc. is a core company of Kyocera Corporation, the world's leading developer and manufacturer of advanced ceramics and associated products, including telecommunications equipment, semiconductor packages and electronic components. During the year ended March 31, 2016, Kyocera Corporation's net sales totaled 1.47 trillion yen (approx. USD 13.3 billion).
Inquiries
Customers except within EU

KYOCERA Document Solutions Inc., Corporate Communication Section

Customers within EU

KYOCERA Document Solutions Europe B.V.

Kyocera Document Solutions Inc. ensures adherence to local data protection regulations. We have detected that your inquiry comes from within the EU. Therefore, due to the EU's General Data Protection Regulation, please note that your request will be forwarded to our regional headquarter: Kyocera Document Solutions Europe.
*

This news release is intended for the media, and is current, as of the date of publication.