KYOCERA's "Teaching Assistant®" Receives Prestigious "Pick" Award from the Analysts at BLI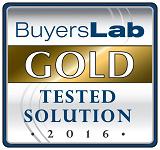 Osaka, Japan - January 19, 2017 - Kyocera Document Solutions Inc., one of the world's leading document solutions companies, today announced that its business application Teaching Assistant® has been honored with a 2017 Pick award as "Outstanding Education Market Solution" from the analysts at Buyers Lab (BLI), and has received its prestigious Gold Tested Solution rating.
BLI is the world's leading independent evaluator of document imaging software, hardware, and services, and its coveted Pick award recognize the most impressive solutions evaluated by BLI during the previous 12-month test cycle. BLI's analysts were impressed with Teaching Assistant's ease-of-use and wide range of analytical tools, calling it an affordable solution for any school looking to assess student performance more efficiently.
Teaching Assistant® is an MFP-based application that enables teachers to create and print multiple-choice "fill in the bubble" test forms, as well as grade and analyze completed tests automatically by scanning the answer key and answer sheets. The analytical tools include a grade-range histogram, top 10 easiest/hardest questions, and a combined student performance chart.
"Kyocera's Teaching Assistant® is a time-saving, education-enhancing tool for teachers," said Jamie Bsales, Director, Office Workflow Solutions Analysis at BLI. "It streamlines many of the processes involved in multiple-choice testing, helping teachers spend more time on other important classroom activities."
Optional integration with Microsoft Excel provides even greater insight, enabling teachers to use a PC to create tests, perform additional analysis, and chart test results. With Teaching Assistant®, educators have a deeper understanding of overall class performance, including which subject or content areas that may need further emphasis.
Teaching Assistant® is among various kind of business applications offered by Kyocera to help companies and schools alike capture, distribute, and manage their documents more efficiently and cost-effectively.
*

This application may not be available in some countries and regions.

*

Microsoft and Excel are registered trademarks of Microsoft Corporation in the United States and other countries.
About Buyers Laboratory LLC
Buyers Laboratory LLC (BLI) is the imaging industry's leading independent provider of analytical information and services. For more than 50 years, buyers have relied on BLI data when making purchasing decisions, while industry professionals have turned to it for competitive intelligence when creating marketing strategies. BLI's services, which are also accessible via mobile devices, include a comprehensive library of test reports, images, and manufacturer's literature--as well as industry tools that help configure products, calculate total cost-of-ownership (TCO), and determine annual power usage. BLI also consults with manufacturers, helping them develop and market more efficient products and consumables.
About KYOCERA Document Solutions Inc.
Kyocera Document Solutions Inc. headquartered in Osaka, Japan is a leading manufacturer of document imaging solutions and document management systems, including color and monochrome multifunctional products and printers and wide format devices. Kyocera's products are renowned for their unique long-life imaging components that provide greater reliability and less waste - resulting in a lower Total Cost of Ownership (TCO) over the life of the product.
The Kyocera Document Solutions portfolio does not stop at hardware. A full suite of business applications and consultative services allows customers to optimize and manage their document workflow, unleashing the full potential of their hardware investment. Kyocera Document Solutions Inc. is a core company of Kyocera Corporation, the world's leading developer and manufacturer of advanced ceramics and associated products, including telecommunications equipment, semiconductor packages and electronic components. During the year ended March 31, 2016, Kyocera Corporation's net sales totaled 1.47 trillion yen (approx. USD 13.3 billion).
Inquiries
Customers except within EU

KYOCERA Document Solutions Inc., Corporate Communication Section

Customers within EU

KYOCERA Document Solutions Europe B.V.

Kyocera Document Solutions Inc. ensures adherence to local data protection regulations. We have detected that your inquiry comes from within the EU. Therefore, due to the EU's General Data Protection Regulation, please note that your request will be forwarded to our regional headquarter: Kyocera Document Solutions Europe.
*

This news release is intended for the media, and is current, as of the date of publication.