KYOCERA Document Solutions wins 'Sustainable Brand of the Year' GERMAN CSR AWARD 2017
Hoofddorp, The Netherlands, 24 April 2017 - The award for Exemplary Cooperation with NGOs/NPOs was based on Kyocera Document Solutions' long standing partnership with "Deutsche Umwelthilfe" (DUH) the highly respected German environment and consumer protection NGO, with whom they celebrate 30 years of collaboration.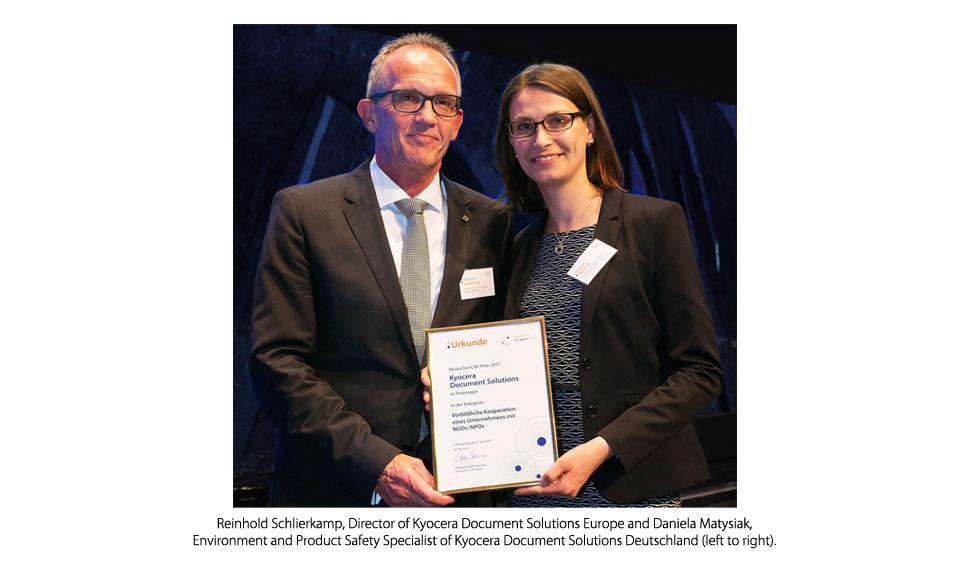 For us, crowning this outstanding anniversary with the GERMAN CSR AWARDhighlights a milestone achievement in CSR.
Kyocera and DUH have been committed to the project "Living Rivers" for decades, supporting renaturation measures of rivers throughout Germany. Additionally, DUH was an expert advisor to Kyocera for launching concepts such as PRINT GREEN and the KYOCERA Environmental award.
GERMAN CSR-AWARD
Initiated in 2006, the award is ranked top 3 of its kind in Germany, the "CSR-Award of the German Government" and "German Sustainability Prize" is the only other comparable and prestigious awards.
After winning the German Sustainability Prize in 2014, We were recognized again for our outstanding company philosophy and CSR-strategy which focuses on a strong commitment to nature conservation.
A highly-regarded jury selected three nominees per category across a total of 6 categories. Mr. Reinhold Schlierkamp attended the award winning ceremony on 4 April 2017 at the GERMAN CSR-FORUM in Ludwigsburg.

About KYOCERA Document Solutions Inc.
Kyocera Document Solutions Inc. headquartered in Osaka, Japan is a leading manufacturer of document imaging solutions and document management systems, including color and monochrome multifunctional products and printers and wide format devices. Kyocera's products are renowned for their unique long-life imaging components that provide greater reliability and less waste - resulting in a lower Total Cost of Ownership (TCO) over the life of the product.
The Kyocera Document Solutions portfolio does not stop at hardware. A full suite of business applications and consultative services allows customers to optimize and manage their document workflow, unleashing the full potential of their hardware investment. Kyocera Document Solutions Inc. is a core company of Kyocera Corporation, the world's leading developer and manufacturer of advanced ceramics and associated products, including telecommunications equipment, semiconductor packages and electronic components. During the year ended March 31, 2016, Kyocera Corporation's net sales totaled 1.47 trillion yen (approx. USD 13.3 billion).

Inquiries
Customers except within EU

KYOCERA Document Solutions Inc., Corporate Communication Section

Customers within EU

KYOCERA Document Solutions Europe B.V.

Kyocera Document Solutions Inc. ensures adherence to local data protection regulations. We have detected that your inquiry comes from within the EU. Therefore, due to the EU's General Data Protection Regulation, please note that your request will be forwarded to our regional headquarter: Kyocera Document Solutions Europe.
*

This news release is intended for the media, and is current, as of the date of publication.