KYOCERA to Open New Fully Automated Factory in China to Increase Production of OPC Drums
Osaka, Japan - October 16, 2017 - Kyocera Document Solutions Inc. (President: Norihiko Ina), one of the world's leading document solutions companies, has begun expanding its Shilong Plant in China to enhance production capacity of OPC* drums used in multifunctional products (MFPs) and printers. With the second plant scheduled to start production in late May 2018, the Plant's total production capacity of OPC drums is expected to exceed 2.5 times the current capacity by 2020.
The company's manufacturing subsidiary in China, Kyocera Document Technology (Dongguan) Co., Ltd. (hereinafter, "the Plant"), produces OPC drums (consumables) in addition to MFPs and printers. With orders increasing for color MFPs and printers which are sold in more than 140 countries around the world, Kyocera aims to enhance its production of drums mounted on low- to medium-speed machines and thus decided to expand the Plant to secure the required production capacity.
Contrary to common multilayer, negative charge-type OPC drums, Kyocera's proprietary drums retain a high image quality for a long time. By introducing highly productive and fully automated production lines, Kyocera will develop a production system that efficiently and flexibly responds to increasing orders. In addition, by building a fully automated production system that is far less affected by possible hikes in labor costs, Kyocera will be able to provide a stable supply of high-quality products to customers all over the world.
Furthermore, we will actively promote measures to utilize the Internet of Things (IoT), such as visualizing various types of site information including operating conditions of production lines, in order to automatically provide feedback and make improvements based on the collected data.
*

OPC: organic photo conductor
Overview of second plant for OPC drums
Plant Name

KYOCERA Document Technology (Dongguan) Co., Ltd.
Second plant for OPC drums

Location
Within the premises of the Plant
Site Area
6,475m2 (about 100×65m)
Total Floor Area
10,830m2 (steel framed, three-story building)
Start of Construction
July 2017
Start of Regular Production
May 2018
Production Item

OPC drums
Overview of whole plant
Operation
KYOCERA Document Technology (Dongguan) Co., Ltd.
Address
3 Fang Zheng East Road, Shilong Town, Dongguan City, Guangdong Province, People's Republic of China
Total Site Area
147,600m2
Total Floor Space of Buildings
246,543m2
Total Greenspace Area
30,945m2 (greening ratio: 21.0%)
Number of Employees
5,685 (as of the end of August 2017)
Business Description
Manufacture of multifunctional products, printers and photoreceptor drums
History

June 1999:

Started manufacturing printers in a rented factory in Shilong, Dongguan, Guangdong, China.

October 2001:

Completed phase 1 construction of our own Shilong Plant in Shilong, Dongguan.

December 2001:

Established KYOCERA MITA Office Equipment (Dongguan) Co., Ltd. as a joint venture with a local Chinese company.

May 2003:

Completed phase 2 construction of the Shilong Plant (started production of OPC drums).

August 2005:

Completed phase 3 constriction of the Shilong Plant (expanded plant for OPC drums).

April 2012:

Renamed the company to KYOCERA Document Technology (Dongguan) Co., Ltd.

May 2018 (plan):

Completion of the second plant for OPC drums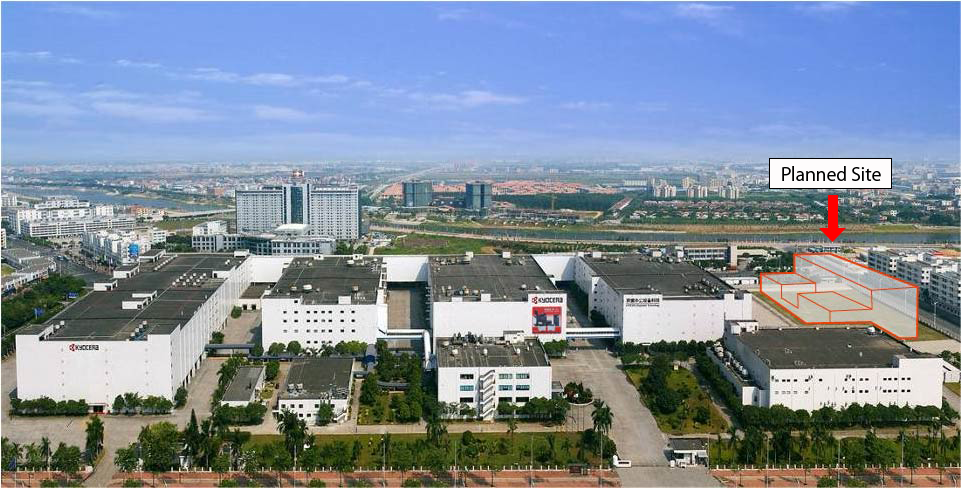 Full view of the Plant (the orange framed area in the upper right shows the planned site for the second plant.)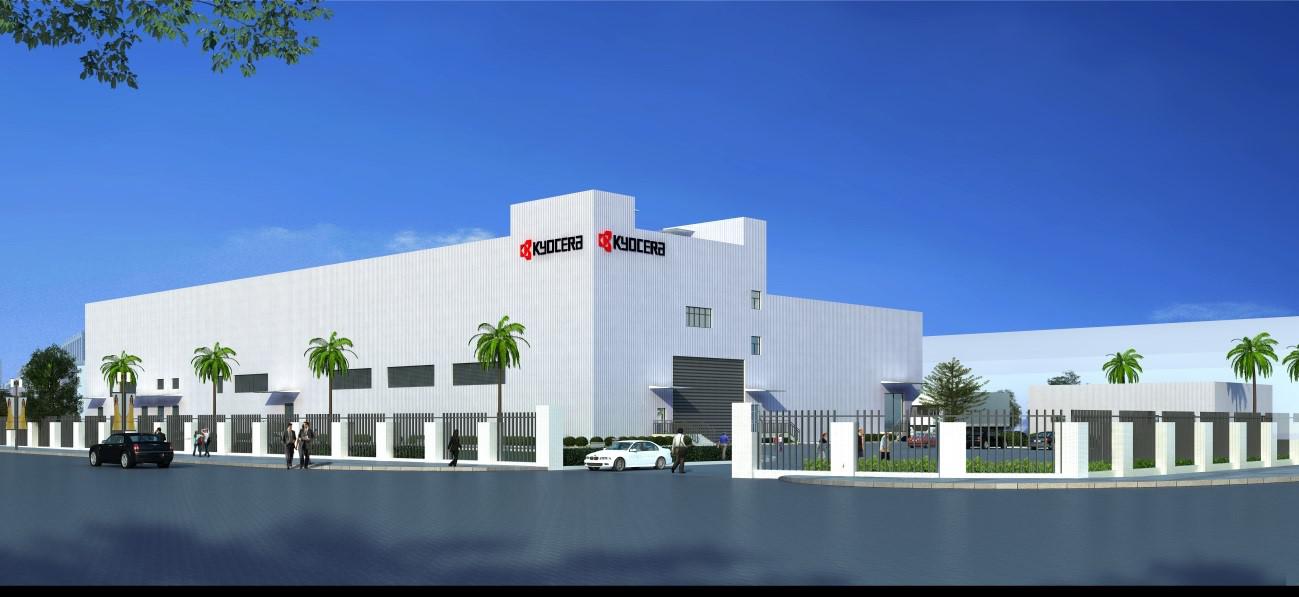 Architect's image of the second plant
About KYOCERA Document Solutions Inc.
Kyocera Document Solutions, headquartered in Osaka, Japan, is a leading manufacturer of document imaging solutions and document management systems, including color and monochrome multifunctional products as well as printers and wide format devices. Kyocera's products are renowned for their unique long-life imaging components that provide greater reliability and less waste - resulting in a lower Total Cost of Ownership (TCO) over the life of the product. The Kyocera Document Solutions portfolio does not stop at hardware. A full suite of business applications and consultative services allow customers to optimize and manage their document workflow, unleashing the full potential of their hardware investment.
Kyocera Document Solutions Inc. is a core company of Kyocera Corporation, the world's leading developer and manufacturer of advanced ceramics and associated products, including telecommunications equipment, semiconductor packages and electronic components. During the year ended March 31 2017, Kyocera Corporation's net sales totaled 1.42 trillion yen (approx. USD 12.7 billion). 
Inquiries
Customers except within EU

KYOCERA Document Solutions Inc., Corporate Communication Section

Customers within EU

KYOCERA Document Solutions Europe B.V.

Kyocera Document Solutions Inc. ensures adherence to local data protection regulations. We have detected that your inquiry comes from within the EU. Therefore, due to the EU's General Data Protection Regulation, please note that your request will be forwarded to our regional headquarter: Kyocera Document Solutions Europe.
*

This news release is intended for the media, and is current, as of the date of publication.