KYOCERA Wins 4th Consecutive Good Design Award for Multifunctional Products: Two new A3 MFPs recognized for exceptional design, usability and ease of maintenance
Osaka, Japan - November 1, 2017 - Kyocera Document Solutions Inc. (President: Norihiko Ina), one of the world's leading manufacturers of document imaging solutions and document management systems, is pleased to announce that its new A3 multifunctional products (MFPs)*1, the ECOSYS M8130cidn and ECOSYS M4132idn have won the Good Design Award 2017 hosted by the Japan Institute for Design Promotion (JDP), a public interest incorporated foundation.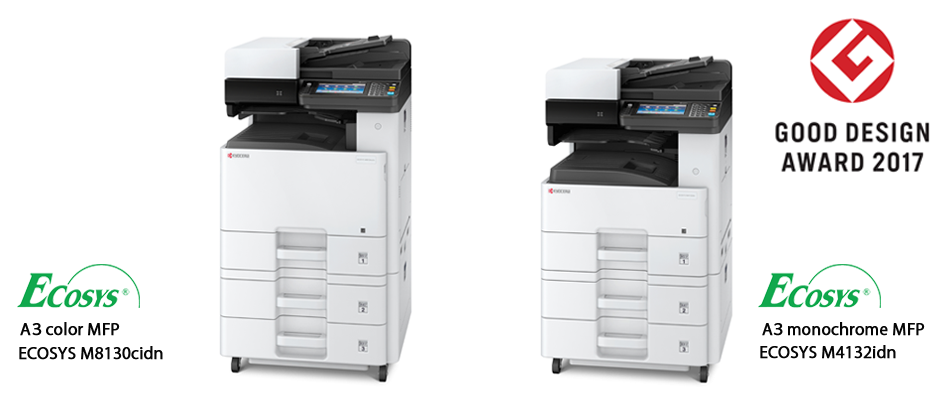 Replete with excellent attention to detail, including not only the appearance but also the design of the inside of the machine, these MFPs feature easy maintenance. The products won the award in recognition of their ease of maintenance realized through the unitization of all maintenance related functional components, and also in recognition of their excellent maintenance support system in combination with a preventive maintenance system achieved through remote control using cloud computing.
The MFPs require no special tools for maintenance as the necessary parts can be removed and returned easily. Focusing on usability, the products demonstrate ingenuity in the shapes and colors of parts to be handled, and also boasts high visibility achieved through labeling and the allocation of symbols. In addition, the MFPs are compatible with Wi-Fi Direct and NFC*2 as a standard feature in order to ensure that cloud services and mobile devices, both of which are frequently used for business purposes today, can also be used conveniently. By reinforcing IT features, this product enhances the possibility of improving document workflow.

Furthermore, the products' compact body (590 mm wide x 590 mm deep) has a design that makes the machine look sleek from any angle, even from the back. Consequently, the product can be installed not only against a wall, but also beside a desk or in the center of an office, expanding office layout possibilities.
Encouraged by receiving this award, Kyocera will continue to develop products with close attention not only to performance, but also to design and usability, thereby helping to establish an environment in which customers can engage in document work even more comfortably.
*1

Release dates vary according to the country.

*2

NFC (Near-Field Communication): Data communication is established between two electronic devices simply by bringing one of them within 10cm of the other.
About Good Design Award
The Good Design Award is a comprehensive design-promotion system that picks good design out of a variety of unfolding phenomena, and aims to enrich our lives, industries, and society as a whole by highlighting and celebrating these works. It is hosted by the Japan Institute for Design Promotion, a public interest incorporated foundation. Recipients of a Good Design Award are granted use of the G Mark symbol, which has been an emblem of good design for over half a century.
About KYOCERA Document Solutions Inc.
Kyocera Document Solutions, headquartered in Osaka, Japan, is a leading manufacturer of document imaging solutions and document management systems, including color and monochrome multifunctional products as well as printers and wide format devices. Kyocera's products are renowned for their unique long-life imaging components that provide greater reliability and less waste - resulting in a lower Total Cost of Ownership (TCO) over the life of the product. The Kyocera Document Solutions portfolio does not stop at hardware. A full suite of business applications and consultative services allow customers to optimize and manage their document workflow, unleashing the full potential of their hardware investment.
Kyocera Document Solutions Inc. is a core company of Kyocera Corporation, the world's leading developer and manufacturer of advanced ceramics and associated products, including telecommunications equipment, semiconductor packages and electronic components. During the year ended March 31 2017, Kyocera Corporation's net sales totaled 1.42 trillion yen (approx. USD 12.7 billion). 
Inquiries
Customers except within EU

KYOCERA Document Solutions Inc., Corporate Communication Section

Customers within EU

KYOCERA Document Solutions Europe B.V.

Kyocera Document Solutions Inc. ensures adherence to local data protection regulations. We have detected that your inquiry comes from within the EU. Therefore, due to the EU's General Data Protection Regulation, please note that your request will be forwarded to our regional headquarter: Kyocera Document Solutions Europe.
*

This news release is intended for the media, and is current, as of the date of publication.