KYOCERA Obtains First "ISMS Cloud Security Certification" in the Document Device Industry, the Latest Requirement for Cloud Services based on ISO/IEC 27017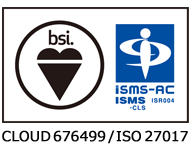 Osaka, Japan - November 28, 2017 - Kyocera Document Solutions Inc. (President: Norihiko Ina), one of the world's leading document solutions companies, has announced that it has obtained ISMS Cloud Security Certification, which is based on ISO/IEC 27017:2015, an international security standard for cloud services. This is the first such certification in the document device industry*1.
ISMS Cloud Security Certification is a third-party certification for cloud security, which is defined as an add-on specification to complement preparations against risks specific to cloud services. The prerequisite to this certification is to obtain ISO/IEC 27001 certification, requirements for a holistic information security management system (ISMS*2*) that protects important data from various threats and mitigates risks.
Nowadays, as cloud services are increasingly being used in a variety of industries, tighter security control and management is required in accordance with the latest international standards regarding data security and the handling of personal information. In certain sectors, when cloud services are introduced -- particularly at medical and educational institutions, and at companies and public offices where important information is handled -- compliance with security standards is necessary and thus the need for objective standards that certify the control system of each cloud service operator is growing.
Kyocera is working to achieve comprehensive control of security for data created in customers' document workflows. Kyocera has obtained ISMS Cloud Security Certification ahead of other companies in the industry as part of its efforts to provide safe, secure and flexible cloud services to customers. The company will continue to enhance the quality of its document solution services, thereby contributing to the growth of its customers' businesses.
*1

First for a multifunctional product and printer maker (as of November 17, 2017)

*2

System that manages security-related risks to information assets in an organization.
Outline of ISMS Cloud Security Certification Registration
Entity
Kyocera Document Solutions Inc.
Date
November 17, 2017
Range

ISO/IEC27001 (JIS Q 27001) Certificate Number: IS 676497

The ISMS cloud security management system for provision of "KYOCERA Fleet Services"*3 and "KYOCERA eAppsMaker"*4, development, operation and maintenance as a cloud service provider, and for the use of Microsoft Azure as a cloud service customer

No.
CLOUD 676499
Examining organization
BSI Group Japan K.K.
*3

KYOCERA Fleet Services: Service to provide remote control and maintenance of multifunctional products and printers. The remote maintenance service "ECOSYS NET" provided by Kyocera Document Solutions Japan, the sales company in Japan, uses KYOCERA Fleet Services.

*4

KYOCERA eAppsMaker: This is a cloud portal service provided by Kyocera Document Solutions which does not require special programming but establishes highly compatible workflow solutions.
About KYOCERA Document Solutions Inc.
Kyocera Document Solutions, headquartered in Osaka, Japan, is a leading manufacturer of document imaging solutions and document management systems, including color and monochrome multifunctional products as well as printers and wide format devices. Kyocera's products are renowned for their unique long-life imaging components that provide greater reliability and less waste - resulting in a lower Total Cost of Ownership (TCO) over the life of the product. The Kyocera Document Solutions portfolio does not stop at hardware. A full suite of business applications and consultative services allow customers to optimize and manage their document workflow, unleashing the full potential of their hardware investment.
Kyocera Document Solutions Inc. is a core company of Kyocera Corporation, the world's leading developer and manufacturer of advanced ceramics and associated products, including telecommunications equipment, semiconductor packages and electronic components. During the year ended March 31 2017, Kyocera Corporation's net sales totalled 1.42 trillion yen (approx. USD 12.7 billion).
Inquiries
Customers except within EU

KYOCERA Document Solutions Inc., Corporate Communication Section

Customers within EU

KYOCERA Document Solutions Europe B.V.

Kyocera Document Solutions Inc. ensures adherence to local data protection regulations. We have detected that your inquiry comes from within the EU. Therefore, due to the EU's General Data Protection Regulation, please note that your request will be forwarded to our regional headquarter: Kyocera Document Solutions Europe.
*

This news release is intended for the media, and is current, as of the date of publication.