KYOCERA Receives "Highly Recommended" Rating from BLI for Thirteen Products
Osaka, Japan - November 28, 2017 - Kyocera Document Solutions Inc. has announced that thirteen products across its TASKalfa and ECOSYS ranges have been awarded "Highly Recommended" ratings from Buyers Lab (BLI), one of the world's foremost printing product testing providers.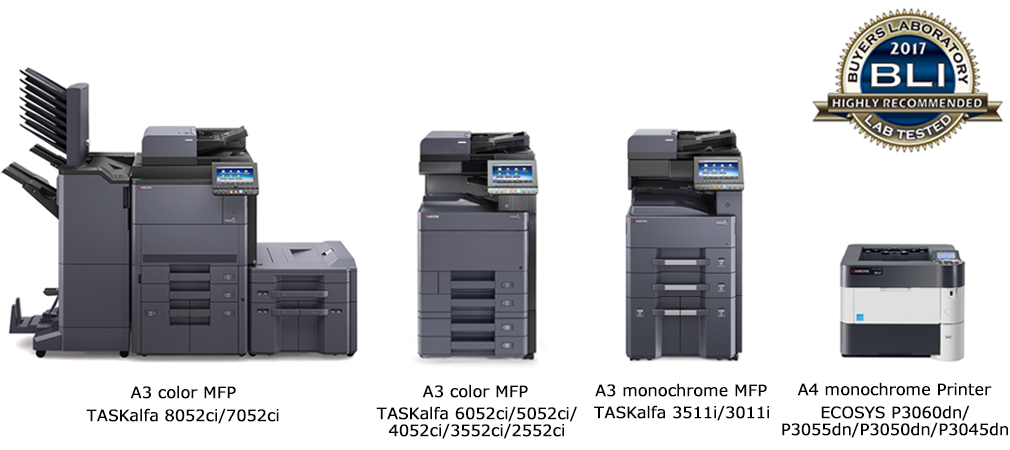 Kyocera's TASKalfa (8052ci, 7052ci, 6052ci, 5052ci, 4052ci, 3552ci, 2552ci, 3511i, 3011i) and ECOSYS (P3060dn, P3055dn, P3050dn, P3045dn) all received the coveted certification, which is based on rigorous testing, including an extensive durability assessment and evaluation of key attributes such as usability, image quality and value. The "Highly Recommended" rating is the highest certification that can be received from BLI. The thirteen awarded products range from monochrome devices that are ideal for small workgroups, to color multifunction devices intended for mid- to large-size office environments.
The BLI honor highlights Kyocera's commitment to quality and performance across its diverse product range and the efforts of its design teams to consistently develop high performance devices and services.
BLI is a world-renowned testing body, which conducts in-depth, unbiased research into the document imaging industry, and is a subsidiary of Keypoint Intelligence.
About Keypoint Intelligence - Buyers Lab
Keypoint Intelligence is a one-stop shop for the digital imaging industry. With unparalleled tools and unmatched depth of knowledge, BLI cuts through the noise of data to offer clients the unbiased insights and responsive tools they need in those mission-critical moments that define their products and empower their sales.
For over 50 years, Buyers Lab has been the global document imaging industry's resource for unbiased and reliable information, test data, and competitive selling tools. What started out as a consumer-based publication about office equipment has become an all-encompassing industry resource.
About KYOCERA Document Solutions Inc.
Kyocera Document Solutions, headquartered in Osaka, Japan, is a leading manufacturer of document imaging solutions and document management systems, including color and monochrome multifunctional products as well as printers and wide format devices. Kyocera's products are renowned for their unique long-life imaging components that provide greater reliability and less waste - resulting in a lower Total Cost of Ownership (TCO) over the life of the product. The Kyocera Document Solutions portfolio does not stop at hardware. A full suite of business applications and consultative services allow customers to optimize and manage their document workflow, unleashing the full potential of their hardware investment.
Kyocera Document Solutions Inc. is a core company of Kyocera Corporation, the world's leading developer and manufacturer of advanced ceramics and associated products, including telecommunications equipment, semiconductor packages and electronic components. During the year ended March 31 2017, Kyocera Corporation's net sales totaled 1.42 trillion yen (approx. USD 12.7 billion).
Inquiries
Customers except within EU

KYOCERA Document Solutions Inc., Corporate Communication Section

Customers within EU

KYOCERA Document Solutions Europe B.V.

Kyocera Document Solutions Inc. ensures adherence to local data protection regulations. We have detected that your inquiry comes from within the EU. Therefore, due to the EU's General Data Protection Regulation, please note that your request will be forwarded to our regional headquarter: Kyocera Document Solutions Europe.
*

This news release is intended for the media, and is current, as of the date of publication.