A4 Black & White Printer ECOSYS P3260dn Series Wins the Good Design Award 2019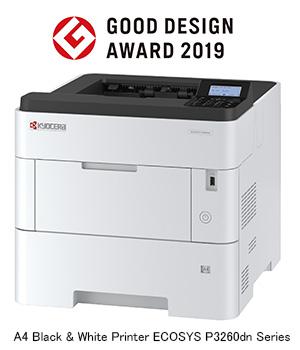 KYOCERA Document Solutions Inc. (President: Norihiko Ina) is pleased to announce that the A4 black & white printer "ECOSYS P3260dn Series" has won the Good Design Award 2019, sponsored by the Japan Institute of Design Promotion.
This monochrome printer is ideal for customers who need to print a high volume of invoices and documents from their backbone system. On top of regular office use, it is also presumed to be installed in a wide variety of settings, such as logistic warehouses, factories and narrow working spaces.
The product won the award in recognition of its stable reliability and installation versatility, aimed to increase compatibility with the backbone system, as well as a design that pursues simplicity. In addition to external design, the series also emphasizes practicality, achieving a compact and easy-to-operate operation panel by incorporating the user's perspective in the key size and pitch design. The product was also recognized for its superior serviceability realized through strengthening of remote maintenance, which allows remote access to monitor the status of the device to ensure stable operation without interruption.
Encouraged by winning this award, KYOCERA Document Solutions will continue to develop products with close attention not only to performance but also to design and usability, thereby helping to establish an environment in which customers can engage in document work even more comfortably.
Award-winning products
ECOSYS P3260dn Series
Japan only
ECOSYS P3160dn / P3145dn
Others
ECOSYS P3260dn / P3155dn / P3150dn / P3145dn
About Good Design Award
The Good Design Award is a comprehensive design-promotion system that picks good designs out of a variety of unfolding phenomena, and it aims to enrich people's lives, industries, and society as a whole by highlighting and celebrating these works. The Award is hosted by the Japan Institute for Design Promotion, a public interest incorporated foundation. The award's G Mark symbol has been widely recognized as a symbol that indicates excellent design for over half a century.
Inquiries
Customers except within EU

KYOCERA Document Solutions Inc., Corporate Communication Section

Customers within EU

KYOCERA Document Solutions Europe B.V.

Kyocera Document Solutions Inc. ensures adherence to local data protection regulations. We have detected that your inquiry comes from within the EU. Therefore, due to the EU's General Data Protection Regulation, please note that your request will be forwarded to our regional headquarter: Kyocera Document Solutions Europe.
*

This news release is intended for the media, and is current, as of the date of publication.