Kyocera Document Solutions Receives the Logistics Award at the 2023 Japan Packaging Contest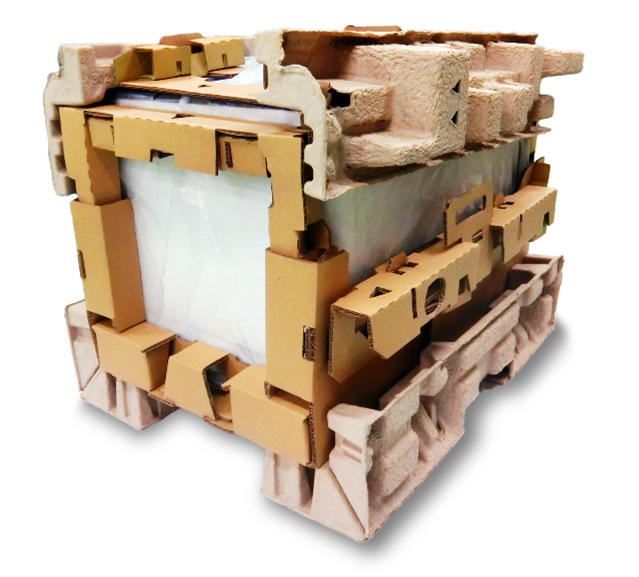 KYOCERA Document Solutions Inc. (President: Hironori Ando) is pleased to announce that Kyocera's color A4 printer product packaging "Paper Packaging with Improved Repetitive Buffering" has won the Logistics Award at the 2023 Japan Packaging Contest which is sponsored by the Japan Packaging Technology Association. Kyocera Document Solutions has received this accolade for the 16th time.

For more than 20 years, Kyocera Document Solutions has been supplying environmentally friendly products by developing printers and multifunction machines with a long life and low waste, as well as by minimizing the number of consumable parts that are discarded. As for the packaging materials, we have been promoting the adoption of paper cushioning materials that lead to "de-plasticization" by using pulp molds made from recycled waste paper.

Unlike foam cushioning materials, paper cushioning materials are not resilient thus multiple impacts result in reducing cushioning. Therefore, the cardboard cushioning material collapses into a bellows shape upon impact to support the cushioning material, and the pulp mold adopts a cylindrical shape to prevent it from falling over and breaking, etc. to compensate for the paper's shortcomings and improve its repeated cushioning.

The Logistics Award was selected from the manufacturer to the consumer at the distribution stage because the packaging form contributes to the rationalization of packaging, distribution, and cost reduction of distribution.

All packaging materials used in products sold by Kyocera Document Solutions are developed and designed in Kyocera Document Solutions and our technological capabilities are highly evaluated in Japan and overseas. Kyocera Document Solutions will continue to reduce the amount of packaging used to a minimum and actively develop environmentally friendly packaging materials by deplasticizing.

2023 List of Japan Packaging Contest Winners Tentative website:
JAPAN PACKAGING CONTEST 2023 Winners List (jpi.or.jp)
Inquiries
Customers except within EU

KYOCERA Document Solutions Inc., Corporate Communication Section

Customers within EU

KYOCERA Document Solutions Europe B.V.

Kyocera Document Solutions Inc. ensures adherence to local data protection regulations. We have detected that your inquiry comes from within the EU. Therefore, due to the EU's General Data Protection Regulation, please note that your request will be forwarded to our regional headquarter: Kyocera Document Solutions Europe.
*

This news release is intended for the media, and is current, as of the date of publication.