Product Use - Evaluating the Environmental Impact of Products
At Kyocera Document Solutions we carry out life cycle assessments (LCA) on all our products in order to evaluate the impact they have over their entire life cycle in order to reduce any negative environmental impact.
What is LCA?
LCA is a technique that visualizes the overall environmental impacts of a product or service by quantifying the amount of resources and energy used as well as waste generated at every stage of the life cycle of the product or service, from raw material extraction through manufacture, distribution, use, and disposal/recycling. This visualization of environmental impact in terms of climate change, depletion of natural resources, etc. enables us to make an objective evaluation of the effectiveness of our environmental action plans and achievements. The International Organization for Standardization (ISO) provides quantitative assessment methods for LCA under ISO14040 and ISO14044, while ISO 14025 covers environmental declaration procedures. Our products are authorized to bear the EcoLeaf environmental label, which is the only ISO Type III environmental label based on LCA in Japan. After developing our own data collection system for conducting LCAs and acquiring EcoLeaf system certification, we are now able to conduct LCAs on an ongoing basis and release information on EcoLeaf-certified products to the public in a timely manner.
● Life Cycle Stages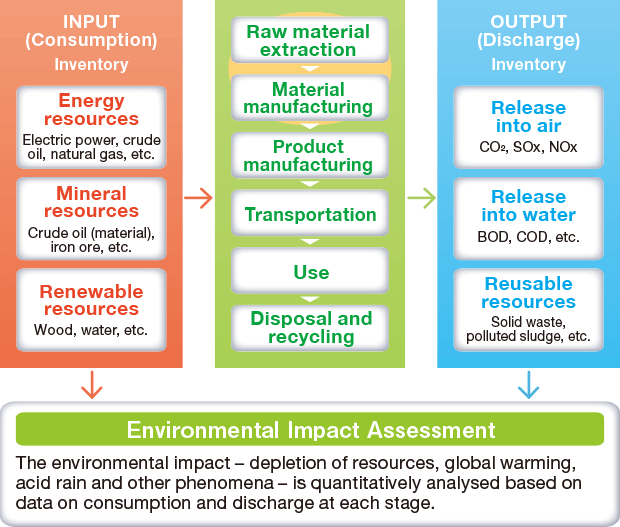 Benefits of LCA
LCAs have the following benefits.
1

Quantification of environmental impact enables us to choose optimal environmental solutions from multiple options.

2

Visualization of environmental impact at each stage of a product's life cycle enables us to see the areas where environmental impact is reduced most effectively.

3

Assessment of environmental impact at each stage enables us to prevent problems from occurring or affecting other stages.

4

Quantification of environmental measures and their effectiveness gives us scientific and objective grounds for making decisions on environmental policies.

5

The ability to publish LCA data on our website when a product is introduced into the market ensures the timely disclosure of environmental information.
Reducing Environmental Impact at Every Stage via LCA
● Product Specifications
Category
Previous model
New model
TASKalfa 4052ci
TASKalfa 4053ci
Printing speed
(number of pages per minute)
Mono 40/Color 40
Mono 40/Color 40
Weight (kg)
95
95
Number of pages that can be printed over its lifetime
Mono 480,000/Color 480,000
Mono 480,000/Color 480,000
Release date
July 2016
January 2019
● Example of LCA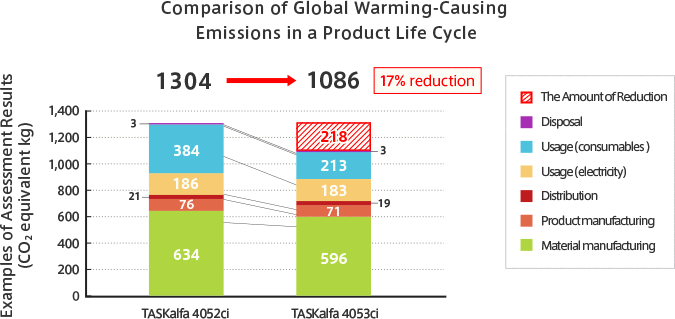 Assessment Results
Compared to its predecessor, the TASKalfa4052ci, our new TASKalfa4053ci reduces the global warming impact 17% more over its entire life cycle. Most of the global warming impact from our printers comes from material manufacturing, electricity use when they are on standby or in operation, and consumable supplies such as toner. We are making various efforts to reduce the global warming impact at these stages of the product life cycle. With the TASKalfa 4053ci, we reduced global warming impact by 6% at the material manufacturing stage and by 45% in relation to consumables at the product use stage through the reduction of packaging materials.
Environmental Education for Engineers
In order to design environmentally friendly products, engineers must fully understand why environmentally friendly design is so important. We educate young engineers in the technical division on our internal chemical substance control system, the 3Rs*, environmental labeling in countries around the world, and an overview of LCA. On top of that we provide product development personnel with practical training (including environmental labeling and requirements in countries around the world, environmentally friendly design standards, and the quantitative impact assessment techniques for LCA).
* The 3Rs: Reduce, Reuse, and Recycle
Education for young engineers mainly covers:
Kyocera Document Solutions' chemical substance control system
The 3Rs
Environmental labeling in countries around the world
Energy conservation regulations in countries around the world
An overview of LCA
Education for product development personnel mainly covers:
Environmental labeling and requirements in countries around the world
Environmentally friendly design standards
Quantitative impact assessment techniques for LCA
Kyocera Document Solutions' chemical substance control system
Menu
KYOCERA Document Solutions' CSR

Environmental report

Efforts at Production Centers and Offices

Efforts at Each Stage of Product Life Cycle

Social performance report

For Wholesome Development of Society

Plant report

Tamaki Plant (Mie, Japan)

Hirakata Plant (Osaka, Japan)

China Plant

Vietnam plant

Archived feature articles

Feature in FY2014 : Reformes to improve quality

Feature in FY2012 : Our pursuit of "Society/Environment-friendliness" crystallized into Smart MFPs

Feature in FY2011 : Environmentally-conscious packaging design

Feature in FY2010 : Social values of the TASKalfa series miltifunction products

Feature in FY2009 : CSR activities at Kyocera Mita's Shilong Plant

Feature in FY2008 : Kyocera Mita's environmental management centered on long-life-design printers and MFPs

Download CSR Report

Other