Biodiversity Conservation
Respecting Biodiversity
Our lives and livelihoods are supported by the various gifts that biodiversity brings. In order to continuously enjoy these gifts, we must look into how our business activities affect biodiversity and eliminate any negative impact arising from them.
At Kyocera Document Solutions the concept of "Living Together" lies at the heart of everything we do. In 2012 we incorporated Biodiversity conservation activities into our environmental management system (EMS) and conduct biodiversity risk surveys at our head office, Hirakata Plant, and Tamaki Plant. If any risk arises, we look at ways to mitigate it and systematically make improvements under the EMS.

In addition to addressing green purchasing, there are sections dedicated to Biodiversity conservation in the Kyocera Document Solutions Supply-Chain CSR Guidebook and the Kyocera Document Solutions Supply-Chain CSR Deployment Check Sheet encouraging our suppliers to think about biodiversity and look for ways they can conserve it.
We also make ongoing efforts to mitigate potential risks to biodiversity, such as eradicating invasive alien species earmarked as being potentially harmful.
Biodiversity Conservation-related requirements included in the Kyocera Document Solutions Supply-Chain CSR Guidebook
Biodiversity-friendly operations management
Minimize business activities' direct impact on biodiversity
Address the factors arising from your operations (such as water intake, wastewater discharge, exhaust air, waste, noise, vibration, and light) that have a direct impact on ecosystems in your environmental management system, taking into consideration their impact not only on human health but on the well-being of all living organisms, so that they are appropriately managed. If possible, set your own standards to manage these factors.
Biodiversity-friendly material procurement
Think about biodiversity when procuring raw materials
Biodiversity-friendly raw materials are raw materials produced without destroying forests and waterways (natural ecosystems such as wetlands, lakes, and rivers) that provide habitats for living organisms or over-harvesting natural biological resources. In order to use such raw materials, it is necessary to ensure traceability back to their places of origin and confirm that appropriate consideration is given to the ecosystem in the area where they are produced. If third-party certification programs* are available for raw materials you use, consider using those certified under such programs.
* Third-party certification programs certify products whose raw materials are produced without destroying biodiversity. Typical examples include FSC (Forest Stewardship Council) certification for paper and wood products.
Biodiversity Conservation Efforts in Japan
Starting in FY 2022, our head office staff plan to participate in activities to restore the natural environment of the Yodogawa cove that provides a habitat for deepbody bitterling, a native fish designated as a Natural Monument of Japan, in addition to the ongoing Conservation Activity of Coppice for Zephyrus in Mt. Mikusa in Osaka. At the Tamaki Plant in Mie, employees participate in biotope restoration activities led by a local environmental organization.
Biodiversity Conservation Efforts outside Japan
Kyocera Document Solutions Deutschland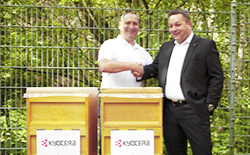 About half of the more than 550 species of bees that live in Germany are in danger of extinction. In addition, more than 80% of native flowering plants rely on pollination by bees. As a result, ecosystems in Germany are being devastated. Working with Beefuture, an environmental organization specializing in the preservation of bee colonies, Kyocera Document Solutions Deutschland purchased hives and provided them to its employees. Beefuture will send a beekeeper to the employees' homes to regularly take care of the bees.
Kyocera Document Solutions Development Philippines
As part of the company's efforts to preserve the environment, employees of Kyocera Document Solutions Development Philippines plant mangrove and mahogany seedlings in mountainous areas near Cebu City.
Vietnam Plant
As part of its Biodiversity conservation efforts, the Vietnam Plant is growing rau ngot, a native Vietnamese leafy vegetable, on its premises.
The harvested vegetable is served to employees as an ingredient during lunch.
---
For more information about our Biodiversity conservation efforts, visit the following webpage:
Menu
KYOCERA Document Solutions' CSR

Environmental report

Efforts at Production Centers and Offices

Efforts at Each Stage of Product Life Cycle

Social performance report

For Wholesome Development of Society

Plant report

Tamaki Plant (Mie, Japan)

Hirakata Plant (Osaka, Japan)

China Plant

Vietnam plant

Archived feature articles

Feature in FY2014 : Reformes to improve quality

Feature in FY2012 : Our pursuit of "Society/Environment-friendliness" crystallized into Smart MFPs

Feature in FY2011 : Environmentally-conscious packaging design

Feature in FY2010 : Social values of the TASKalfa series miltifunction products

Feature in FY2009 : CSR activities at Kyocera Mita's Shilong Plant

Feature in FY2008 : Kyocera Mita's environmental management centered on long-life-design printers and MFPs

Download CSR Report

Other