Product Use - Environmentally Friendly Products
Energy-Saving Design
Most of the electricity used by our MFPs, printers and production inkjet printers when they are in operation comes from standby power, which is consumed constantly while a device is waiting for faxes or connecting to a LAN, and power consumed during the printing operation to melt toner or ink and fix it onto paper as an image. In order to minimize these types of power consumption, we are developing various new technologies and applying them to our products.
New Eco-friendly Toner
We developed a new toner featuring a sharp melting core covered by a thin shell. This new toner, which can fuse at a temperature 30℃ lower than that of conventional products, has halved the TEC value* of our printers and MFPs.
* The typical electricity consumption of a product during a week, which is measured in kilowatt-hours (kWh) and calculated assuming that the product will be constantly switched between operational mode, sleep mode, and power-off mode for 5 days, and that it will be in either sleep or power-off mode for the remaining 2 days of the same week.
● Particle Structure of the New Toner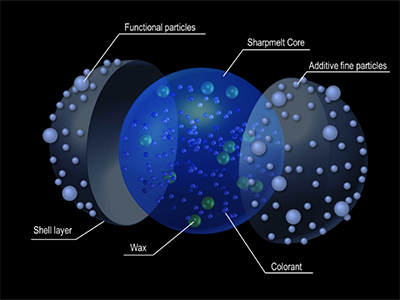 ● Temperature-Viscosity Relationship and Fusing Range of New Toner vs. Conventional Toner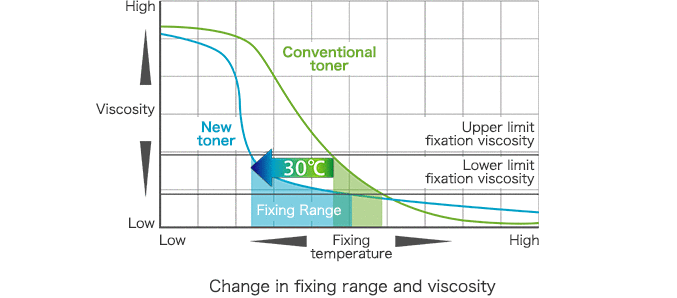 New Energy-saving Ink
Our proprietary water-based pigment inks used in the TASKalfa Pro 15000c production inkjet printer demonstrate excellent penetration into paper and dry quickly after printing. These properties have enabled us to reduce the amount of electricity consumed when fixing images onto paper.
New Energy-saving Controller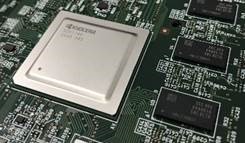 Reducing electricity consumption and CO2 emissions is a challenge we all must face, and reducing the standby power used by our printers and MFPs in offices has become a major focus for us. At the same time, we must ensure that our printers are ready to go once the machine is awakened from sleep mode so that there is no compromising the operability and productivity for users.
As a solution, we came up with a new feature for the TASKalfa 2554ci/3554ci A3 color MFPs, which were released in January 2020. These models are equipped with a newly developed energy-saving controller that further reduces the time it takes to return from sleep mode while minimizing the standby power used during sleep mode. Thanks to this newly developed energy-saving controller, we achieved the industry's highest energy-saving performance, with standby power used during sleep mode kept below 0.5 W, without compromising the operability and productivity for users.
Resource-saving Design
Reusing Toner Containers
The TASKalfa 6052ci Series of A3 color MFPs released in July 2016 feature the capability of reusing the empty black toner container as a waste toner tank. Conventional models use a tank to collect waste toner, which needs to be replaced with another tank when it's full. Reusing a used toner container as a waste toner tank can reduce the number of parts needed and lead to resource and cost savings.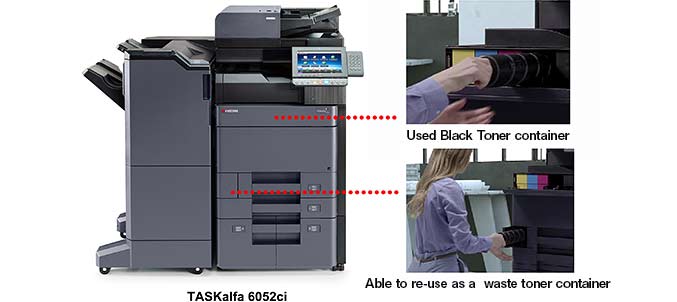 Reducing the Use of Sheet Metal
The frame of the ECOSYS M6535cidn A4 color MFP is composed of sheet metal parts.
We used CAE* tools to perform a structural analysis enabling us to find the optimal sheet metal configuration that would provide sufficient strength using thinner sheets and in the end came up with an MFP that is approximately 20% lighter than the previous model. The following two diagrams show an example of the resource-saving design obtained by changing the shape of sheet metal body based on a structural analysis via CAE. The arrows show the directions of torsion. The deeper the shade of red, the greater the stress applied to the sheet metal. Conversely, the deeper the shade of blue, the less stress there is. The diagram on the left shows greater stress being applied to the top right part. We used thicker metal for the red area and added another sheet to the left side of the frame to increase its strength while minimizing the thickness of the metal in other parts to reduce the amount of sheet metal used.

* Computer-Aided Engineering: Computer systems to support designing and developing industrial products.
Long-life Design
Our ECOSYS product concept focuses on extending the life of the mechanical parts, which are involved in creating the printed image, to the maximum extent possible. This will reduce the frequency of replacing parts and the number of parts that will end up as waste. Since running costs can also be minimized, there are both economic and environmental advantages. Our various unique technologies for extending service life are the driving forces that have made this dream a reality.
New Long-life a-Si Photoreceptor Drum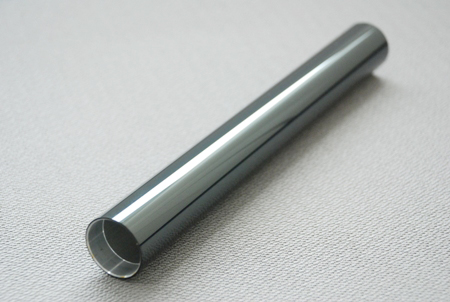 Our printers and MFPs released in 2016 and later use a hard amorphous carbon (a-C) thin film for the surface-protecting layer of the conventional amorphous silicon (a-Si) photoreceptor drum. The outstanding durability and hardness of the a-C thin film is close to that of diamond. Furthermore, the submicron-sized (1/10,000 millimeter) microbumps formed on the drum's top surface layer reduce friction with surrounding devices by about 30%. These features have extended the life of the photoreceptor unit by 600,000 pages.
● Product information related to amorphous silicon photoconductors

New Long-life PSLP* Drum
A number of photoreceptor drums employed in our printers and MFPs on the market today feature a positive-charged single-layer photoconductor (PSLP) drum that can be used with a positive charge unlike standard organic photoconductors (OPCs). While the conventional negatively charged multi-layered OPC drum causes deterioration in the special photoreceptor balance due to wear and tear on the surface layer of this multi-layered component, the PSLP drum's single layer structure provides sustained stability over a long period without any deterioration in the special photoreceptor balance despite the wear and tear. Incorporating our own original service life extension technology into this design, we were able to create a drum that lasts ten times longer than the standard OPC drum. Since the manufacturing process for PSLP drums is extremely simple compared to that for standard OPC drums, it takes about 1/3 the amount of energy to manufacture them as it does to manufacture standard OPC drums of the same size and contributes significantly to a reduction in CO2 emissions.
* Positive-charged Single Layer Photoconductor
● PSLP Drum Structure

Long-life Printhead
Inkjet printers effectively remove ink and dirt that dry on the print head surface to keep it clean at all times. We developed an original cleaning solution that dissolves the dried ink for the TASKalfa Pro 15000c production inkjet printer. The cleaning solution is fed from a special nozzle installed at the end of the head to the wiper blade that cleans dirt off the head's surface. Also featuring a built-in cleaning system that gives a final wipe using only the cleaning solution and then cleans the wiper blade, the TASKalfa Pro 15000c can print up to 60 million pages without maintenance. This cleaning system reduces the amount of maintenance required, which means a smaller environmental impact since it generates less waste fluid and saves water resources associated with maintenance.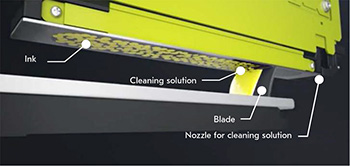 Print head cleaning
Office Friendly Products
In addition to making our products environmentally friendly with resource and energy saving designs, we are taking on the vital task of improving our customers' office environments as well. Our printers and MFPs are equipped with the exact features required in today's workplace environment, such as a small footprint, quiet operation that does not disturb people working near the machine, a quiet mode setting which is useful when a quiet office environment is especially necessary, and a compact design.
Quiet By Design
We have incorporated various features in our MFPs and printers that are designed to make them quiet.
Reduction of Cooling Fans
We reduced the number of cooling fans by rearranging their placement so that the impact of heat sources can be minimized, and fan noise reduced.
● Flow of Air in the ECOSYS M5526cdw Uni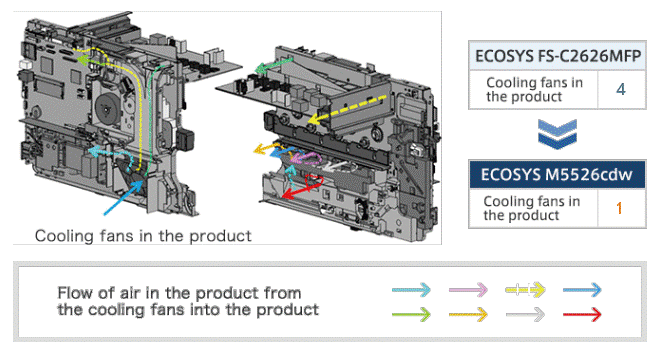 Reduction of Driving Motors
We dramatically reduced the torque of the process and paper feeding units to successfully run the machine with only two motors, one image forming motor and one feeding motor, to significantly cut down operational noise.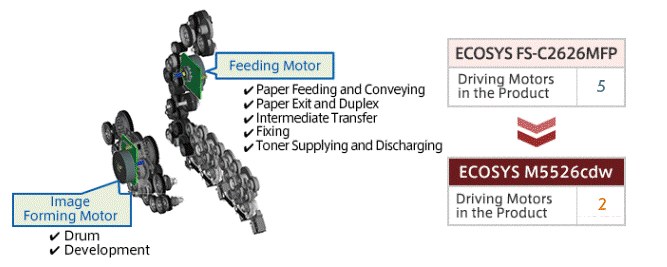 ● Comparison of Noise Levels
Model
Previous model
New model
Reduction
ECOSYS FS-C2626MFP
ECOSYS M5526cdw
Sound Pressure Level
50.0 dB
49.0 dB
0.89x
Sound Power Level
61.7 dB
60.1 dB
0.69x
Quiet Mode
The following five models of A4 color printers and MFPs can be operated very quietly by reducing the noise. The user may choose to always leave it on quiet mode, turn off quiet mode entirely, or set it to quiet mode for particular jobs. Quiet mode enables users to lower the noise level to 45 - 47 decibels.
* 40 dB is equivalent to the noise level of typical city street at midnight or inside a library, while 50 dB is about the same as a quiet office. )
● Comparison of Noise Levels
Model
Noise level
Normal mode
Quiet Mode
ECOSYS M6530cdn/P6130cdn
49.5 dB
45.0 dB
ECOSYS M6535cidn/P6035cdn
52.0 dB
47.0 dB
ECOSYS P7040cdn
53.5 dB
47.0 dB
Compact Design
The ECOSYS M5526cdw A4 color MFP and the ECOSYS P5026cdw A4 color printer launched in October 2016 have the following features that enable downsizing.
1

The toner container, integrated with a waste toner bottle, is directly connected to the process unit to shorten the toner feeding route.

2

A small-diameter photoreceptor drum/small-diameter charging roller and a two-component development method are used to make the process unit smaller.

3

The compact process unit shortens the distance between color stations.

4

Use of a single-focus f-theta lens (which is used for laser scanning) in the laser scanning unit (LSU), a device that draws image data on the surface of the laser printer drum, shortens the optical path length.

5

The double-optical-path/two-dimensional scanning method using a polygon mirror and an f-theta lens stacked in two layers enables use of only one polygon motor for four colors.

6

A reduced number of rollers used in the paper feeder and switchback shortens the feeding route.
These features make it possible to install the printer or MFP anywhere without making anyone nearby feel boxed in. Due to its small footprint, the product can be installed even in confined spaces, such as retail stores, service counters, or small offices. These products won the Good Design Award in 2016 for their compact and user-friendly design.
Product Size Comparison
Previous model
New model
Effect
ECOSYS FS-C2626MFP
ECOSYS M5526cdw
Height [mm]
603
495
18% reduction
Footprint [mm²]
204,000
168,100
18% reduction
Volume [L]
170.47
88.55
48% reduction
Weight [kg]
38.7
26.0
33% reduction
Ozone-free
Our products use photoreceptor units that can be used with a positive charge and curb the generation of ozone, such as an amorphous silicon (a-Si) drum and a PSLP drum. In overhauling the old charging system, we've combined a positively charged photoreceptor drum and a roller charging system to reduce the amount of ozone generated by the machine to an almost undetectable level. We have been using this ozone-free design since 2010.

Menu
KYOCERA Document Solutions' CSR

Environmental report

Efforts at Production Centers and Offices

Efforts at Each Stage of Product Life Cycle

Social performance report

For Wholesome Development of Society

Plant report

Tamaki Plant (Mie, Japan)

Hirakata Plant (Osaka, Japan)

China Plant

Vietnam plant

Archived feature articles

Feature in FY2014 : Reformes to improve quality

Feature in FY2012 : Our pursuit of "Society/Environment-friendliness" crystallized into Smart MFPs

Feature in FY2011 : Environmentally-conscious packaging design

Feature in FY2010 : Social values of the TASKalfa series miltifunction products

Feature in FY2009 : CSR activities at Kyocera Mita's Shilong Plant

Feature in FY2008 : Kyocera Mita's environmental management centered on long-life-design printers and MFPs

Download CSR Report

Other